One of the people that has helped inspire me and teach me how to cook as a vegan has been Sam Turnbull. She is the creator of It Doesn't Taste Like Chicken.
Even when my friend went vegan, she ended up buying Sam Turnbull's cookbook, Fuss-Free Vegan, and used it religiously until she started to figure out what works for her and what doesn't. She still uses it, but like most vegans, she's figured out how to make her favorite foods with a little bit of creativity.
Obviously, I follow Sam Turnbull on Facebook. Today, I saw that she had a post about vegan cheese.
So, I followed the link, clicked through to the homepage on It Doesn't Taste Like Chicken, and saw that she has created a membership site for people who want to eat plant-based but don't know what to cook. It's called The Easy Vegan Meal Plan.
This is so smart. I've thought about doing this before, but Sam Turnbull is the perfect person to do it because she has amassed a ton of vegan recipes on It Doesn't Taste Like Chicken, and she's gotten feedback from people who have tried to make her vegan recipes.
In short, she knows what recipes people like and why and that gives her the ability to create a weekly meal plan that most people would like.
What You Get With The Easy Vegan Meal Plan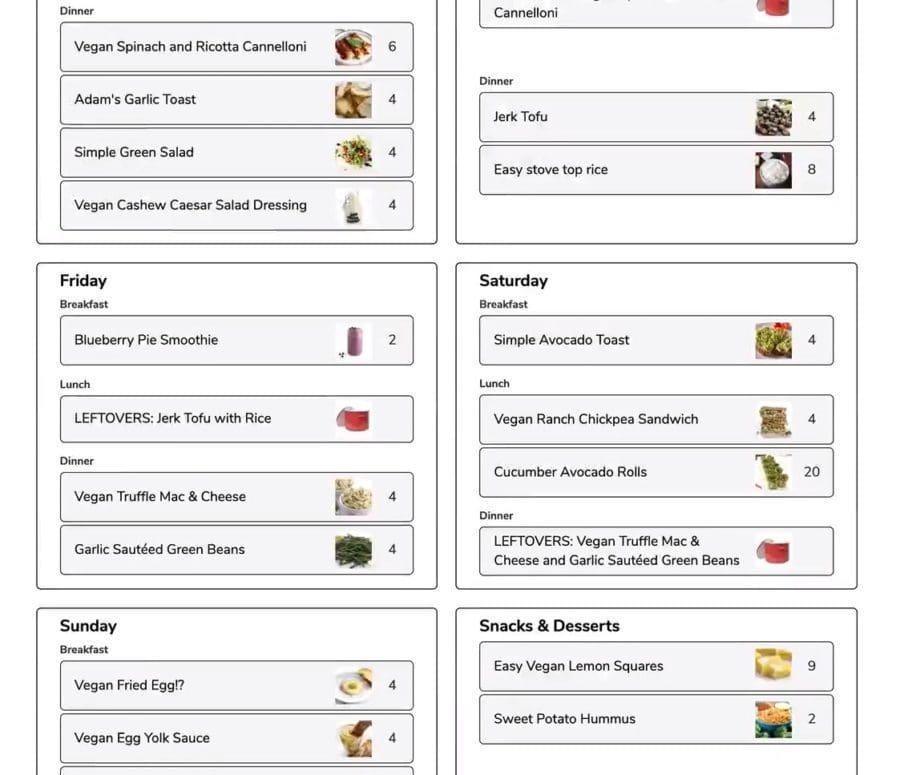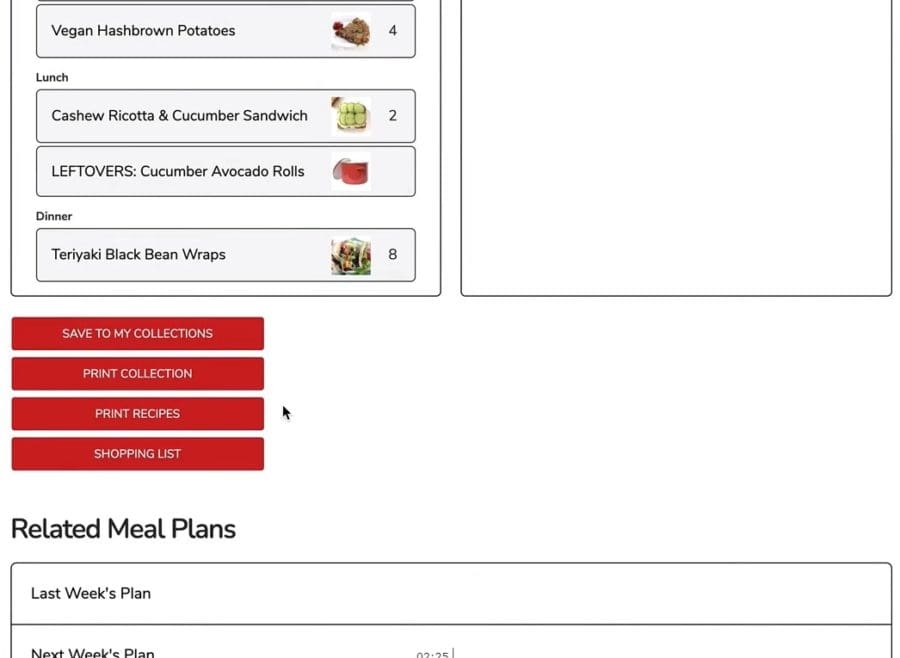 If you are someone who struggles with plant-based cooking, or if you are someone who is just starting to navigate the vegan world and have no idea what to cook most days (we've all been there), then I'm willing to bet that you will like The Easy Vegan Meal Plan.
Here's what Sam Turnbull says you get:
Access to over 450 vegan recipes (with more being consistently added).
Customizable weekly grocery and meal plan.
Each meal plan has a grocery list.
Use Sam's meal plans or create your own meal plans.
Tips for cooking vegan meals.
Substitution suggestions.
Ability to filter between a variety of recipe options, such as nut-free, gluten-free, and oil-free.
14-day money-back guarantee.
I like that she included the 14-day money-back guarantee. That gives people a chance to create a couple of meal plans and see if they like her recipes and the structure of how the site is set up.
It sounds like she's thought of everything for someone who wants vegan meal plans.
She has videos with cooking tips and recipes.
She has meal plans in place or allows you to create your own, and then you get a shopping list to go along with it.
She's created an easy way to plan out a plant-based week that saves you time.
How Long Do You Need Meal Plans?
Sam Turnbull is offering a monthly subscription and an annual subscription.
For me, when I first went vegan, it took me about eight months to really get into the swing of things.
In the beginning, I had no idea what to cook, and we ate a lot of soup, stir-fry, and peanut butter and jelly sandwiches because I didn't know what else to make. We couldn't even have guests over because I didn't know what to cook them.
We went vegan on the spot after watching What The Health, and I had no idea how to cook without cheese, milk, butter, cream, and sour cream. Those were my staples. I was lost.
I didn't have a meal plan. I spent a lot of time trying things out by different vegan bloggers. Some things were ok, but some things were really bad. I remember thinking that I would just give up on vegan cheese because there was nothing good out there. We didn't have a lot of plant-based options in the stores yet and nothing was resembling anything close to what I wanted. I stopped trying a lot of new recipes because it was getting disappointing.
Sam Turnbull's Cranberry And Thyme Vegan Cheese Ball was the first thing I made that actually made me feel like there was hope. (I now tweak her recipe to create whatever type of cheese ball I'm craving.) After that, I started trying every recipe I found and eventually felt confident enough to cook vegan food for other people that I thought they would like.
In short, 52 weeks might seem like a lot, but I think an annual subscription would help you understand vegan cooking on a level that would ensure you can whip up anything you want at any time.
I really like Sam Turnbull and trust her recipes on It Doesn't Taste Like chicken and in her cookbooks, so I highly recommend checking out her vegan meal plan if you are looking for something like that. She's well-known and creates a lot of foods that will resemble or taste like what you are used to as a non-vegan.
Check out Sam Turnbull's Easy Vegan Meal Plan here.