Last Updated on December 31, 2022 by Kari
I bought the Moonology Diary for 2022 and while I used it off and on, I didn't use it daily and consistently dig into the meanings and rituals behind the moon phases. We did have one really good session where we wrote down a forgiveness list and burned it in 2022, but other than that, the Moonology Diary took a back seat for the latter part of the year. So, I'm trying again for 2023 and this time I'm committing to learning everything I can about it and manifesting with the moon.
I love the idea of moving through the months with the moon's cycle. The moon, the night sky, the stars – all of these things make me feel alive. I love being out in the night and seeing the moon or stars or just the black sky. It stirs something inside of me and it's often the only time I'm fully present, which makes it an optimal time for manifesting-focused thoughts, affirmations, and rituals.
The Moonology Diary – 2022 Compared To 2023
There's not a lot of difference between the Moonology Diary of 2022 compared to 2023.
They look pretty much the same, but this year has water with a white moon above it. I like the contrast of colors and the water, of course.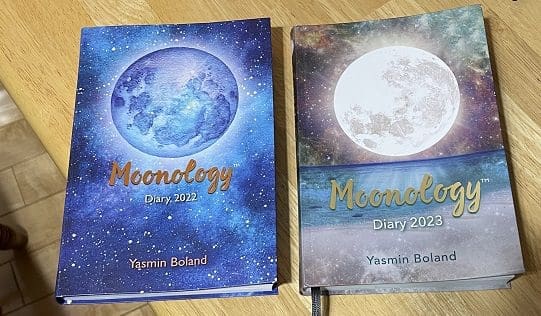 As far as the content, the layout is a little different and there are some extra cool things in the 2023 diary, but all the important information is there.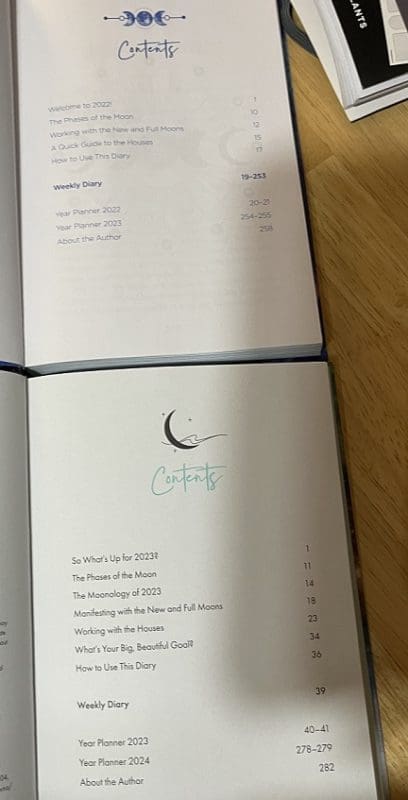 Yasmin Boland lists out specific dates to pay attention to throughout 2023 in detail. For instance, on March 7th, Saturn moves into Pisces, and it's a time to get disciplined in your spiritual practices, according to her.
If you are interested in learning more about the Moonology Diary for 2022, I wrote a review about it and the Moonology Oracle cards here.
7 Things I Like About The Moonology Diary For 2023
I got this as a requested Christmas gift, and it was one of my favorite gifts. It's something that I plan to use all year as a tool to stay hopeful, positive, present, and in line with my intentions. I feel like I lost my way the past few years, and I'm dead set on making 2023 a year where I really focus on the day and the joy and positive results it can bring.
1. The Extra Support From Yasmin Boland
Even though I didn't use it much in 2022, Yasmin Boland has bonuses that are included with the Moonology Diary. Things like meditations and chants. She even does live videos where she engages in a chant or meditation with you. I remember doing one in 2022 that uplifted me so much during a day that was otherwise dark. It's a combination of the chant, her energy, and knowing that other people out there are engaging in the same energy too.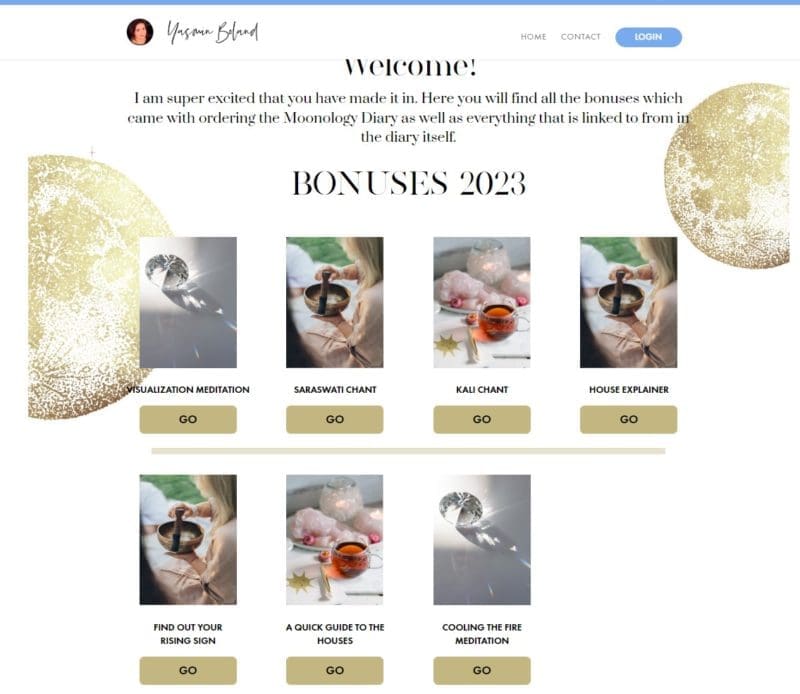 2. The Keywords
This year is going to be very much about simple mantras to me. Peace, love, and joy come to mind.
In the  Moonology Diary for 2023, there are keywords for the lunation, which I LOVE! Just simple words to remember as you move through the lunation.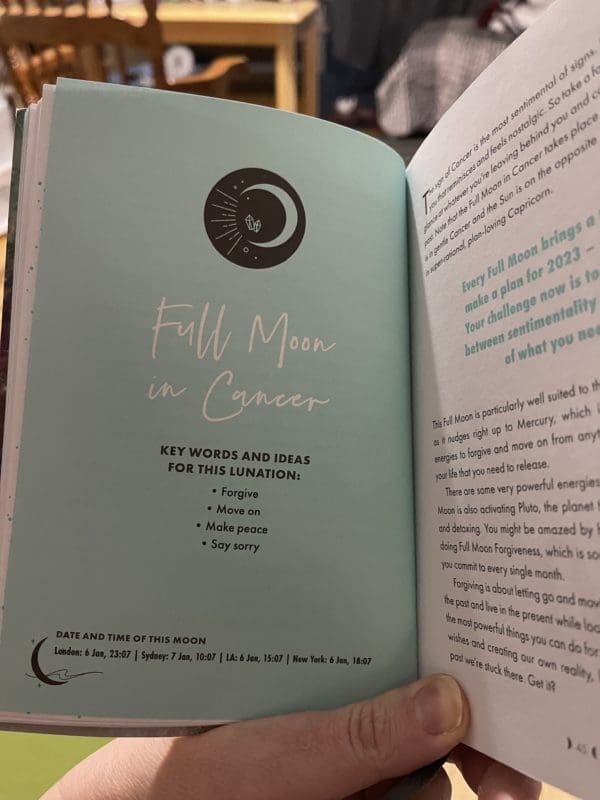 For some weeks, there are also affirmations for the week. Keywords and affirmations give you a great place to center back to when the week starts to get tough.
3. What Are You Grateful For This Week?
Not every week has it, but many weeks have a spot to write down what you're grateful for in the week. This wasn't something that was included in the 2022 Moonology version.
Without gratitude, you have complaining, worry, despair, anger, fear, and so many more negative emotions. Trust me, I know. Gratitude should and will be included in my daily life going forward this year.
4. The Weekly Insights
Again, it's not written for every week, but I like that it is written for some weeks. See pic above to see what I mean.
5. The Monthly Insights
Each month you get insight into the astrological events happening and what it means for you.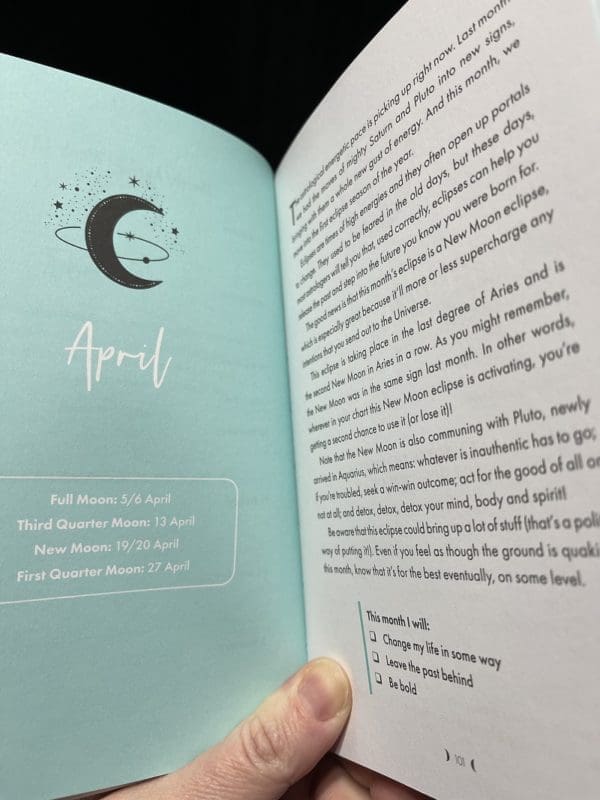 6. The Full Moon Work
Just like in the previous Moonology Diary, you get guided through some questions and thoughts each full moon to help you release anything you are holding on to. The new moon is all about setting intentions and the full moon includes releasing things that we are holding onto that don't serve us going forward.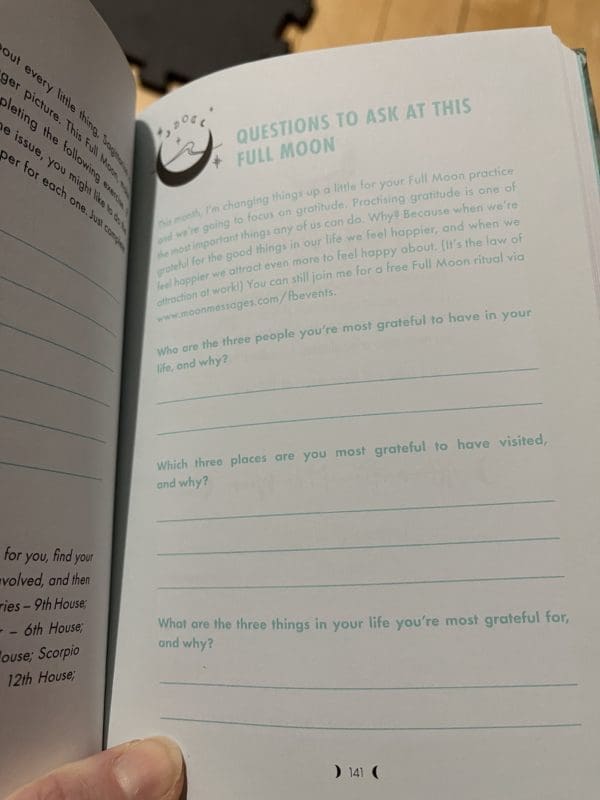 7. How To Work With The Moon
Each month you are shown where the energy of the full moon resides in your life. For me, in the following screenshot, the energy would be in my 1st house as Libra is my rising sign and, therefore, my first house. The first house is about self-identity and how you come across to others. For some reason, Yasmin's calculator page for figuring out your rising sign is coming up not accessible. But you can figure out your houses on Cafe Astrology here.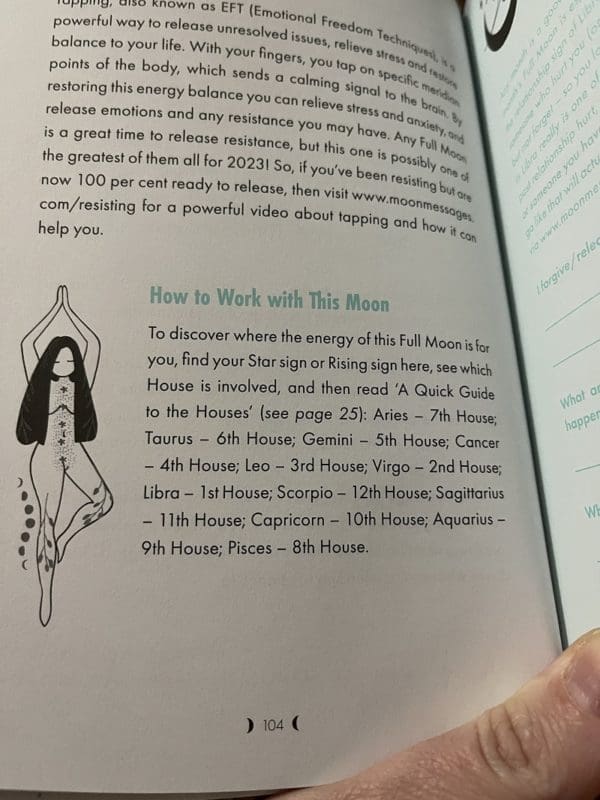 The Moonology Diary Is Something You Can Work With All Year
There's a lot more to the Moonology Diary. I'll be writing about my thoughts and experiences with it this coming year.
If you are interested in working with moonology all year, then this diary will be for you. It's so comprehensive and gives you so much information and guidance.
I'm not going to get lost this year in my worries and problems that keep me away from working with stuff like this. This year, I'm all in with my Moonology Diary and I'm excited to see how great I can make this year.
You can find this diary on Amazon or on HayHouse.