The other day I was watching Mayem with Samara Weaving and then checked her out on IMDb. I noticed that she was in Nine Perfect Strangers. The cast in that show is good, and when I realized I wouldn't be able to watch it because it's on Hulu (I'm in Canada) I bought the book. I went into the book knowing who the actors were that were going to play the characters, so that is who I pictured as I read the book. And, I can say that the cast fits the characters perfectly.
It's A Nice Predictable Story About Personal Growth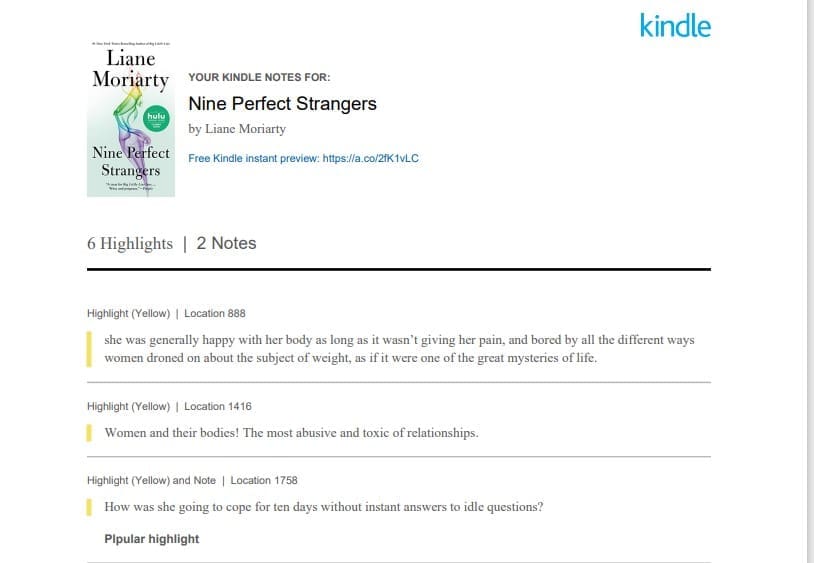 The story isn't anything shocking.
I didn't make a lot of highlights.
You can see what's going to happen as you read through the book.
But it's still an enjoyable ride.
I think that Liane Moriarty did a great job developing all the characters. There are 9 guests and 3 staff members, and by the end of the book, you feel like you know all of them better than they know each other after a week at a health retreat.
Of course, I love personal development, so this story appealed to me. Every single character has their own thing that they are going through, and by the end of Nine Perfect Strangers, I could totally understand what led them to the retreat, how the retreat affected them, and how they progressed afterward.
I probably related with Frances the most. She's a romance writer who is a little too trusting but also a little chaotic and in need of a confidence boost. But at the same time, she has a lot of confidence. For instance, she's not a woman who obsesses about her body, which is so rare. It's almost as if the character was written for Melissa McCarthy. I can see her in every word that Frances says and thinks.
And Tony is a great character who is dealing with depression and a life that didn't work out the way he thought it was going to. The story around his character was the one that didn't go as I suspected from the beginning, so it was an interesting reveal for me to learn more about him.
Samara Weaving's character, Jessica, is married to Ben and they are rich and unhappy. It's a great lesson that money doesn't buy you everything.
I also loved the story of the family who comes to heal and ends up dealing with a lot of unsaid things and emotions during the retreat.
There Are Many Lessons And Relatable Characters In Nine Perfect Strangers
There were many things that were touched on during the book including grief, depression, embarrassment, regret, self-perception, lack of direction, and more. At least one of the characters will be relatable to you in some way.
Little things that the characters think and do are so relatable that you will likely find yourself thinking about your own life and how you can work on improving those little characteristics that are keeping you stuck in sadness or other negative emotions.
In short, it's a good book, and if I can, I will definitely be watching the show. As I said, the actors that were picked are perfect for the characters.