I was the pizza and cheesy bread queen. Before going vegan, I loved pizza and cheesy bread so much that I would have it when celebrating or when I was feeling down, and at all times in between. In short, if I had an excuse to have it, I would. I bought it from Domino's, mostly. They put a ton of cheese on their cheesy bread, and their bread was thicker, which I liked. But, as a plant-based girl who hasn't had cheesy bread in over 4 years, I don't care if the dough is thick or thin, I just want to taste something that resembles cheesy bread along with my pizza.
Panago Pizza Has Been Vegan (Plant-Based) Friendly For A While
I'm grateful for Panago because they have been vegan-friendly for quite a while now with their pizza. They are the place we go to when we have pizza with friends or family because everyone can get what they want.
I remember the first time I tried their plant-based pizza knowing Daiya cheese was on it. I didn't think it was going to be good, but I was surprised that I really, really liked it. The Daiya tastes different when cooked in a professional pizza oven, I guess.
They have also had the sweet mustard dip that is vegan-friendly out for a while. It's not as good as my homemade mustard dip. And all I do is slap some mayonnaise, mustard, and agave together. I think it's their mayo that throws me off.
BUT, they have come out with a plant-based avocado cilantro dip and THAT dip is good. We like it so much that we just get it on top of our pizza.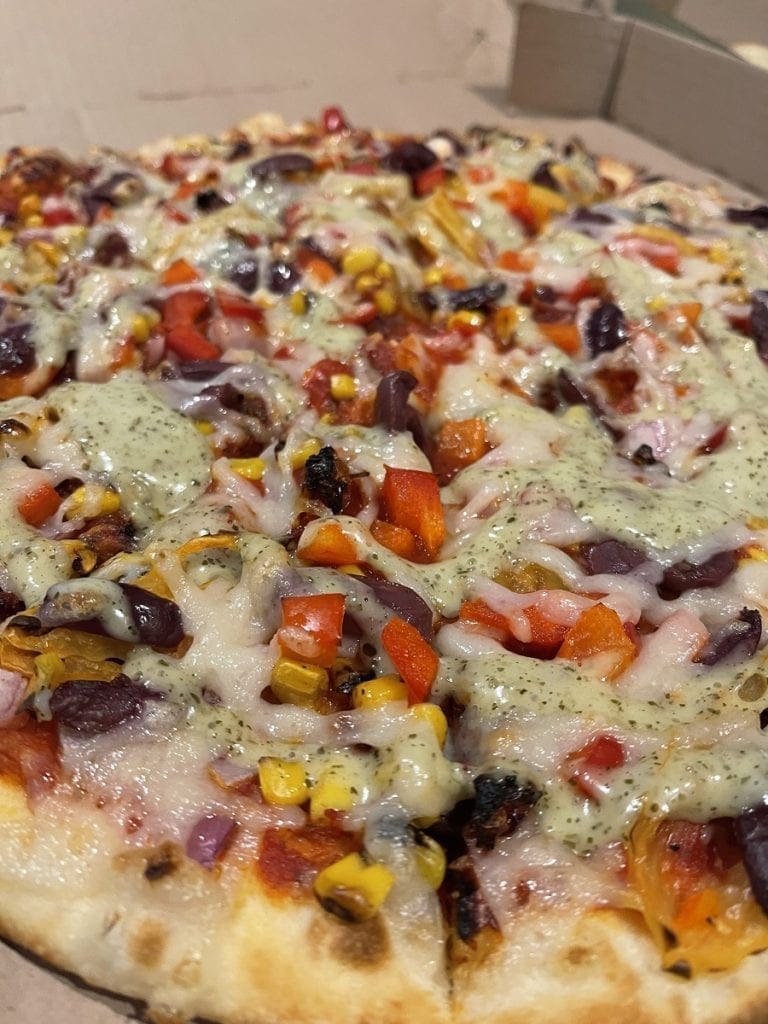 The Vegan Pizza Options At Panagos
They've got not just one but multiple options for us plant-based eaters.
They're making pizzas with mutigrain, thin, original, and Organic Gluten-smart crusts, and they have the toppings that you would likely want on your pizza. Yes, they've got the usual veggies, but  they even have Meat-free Pepperoni and Beyond Meat Italian Sausage Crumble!
They only use one plant-based cheese though. It's Daiya cheese. But like I said, it's good. Especially on the plant based cheezy bread! (See below)
They have specific plant-based pizzas , such as the plant-based spicy Hawaiian or Plant based-delux pepperoni, but we usually end up making our own pizza because none of the pre-made 'recipes' have everything we want or they have things we don't want.
But Panago has more than just pizza. They've got vegan sides, such as Cheezy Bread and Impossible Nuggets – (plan, BBQ, and Jerk). And for drinks, they have Pop, Water, Bubly, and Organic Juice.
And do you love Apple Pie? They do one that's vegan and it's really good.
They have a few sauces, like BBQ, Italian, siracha ranch, and sweet mustard. But I haven't found a sauce I really like there, except for the Italian tomato. But it's hard to go wrong with tomato sauce. I can make much better sauces for my pizza at home.
In short, there are enough plant-based options for you to enjoy regular pizza out.
I do prefer Die Pie's pizza to Panago's, but Die Pie is catering to people who are actively searching out plant-based pizza. That said, while Die Pie has Panago beat for options on pizza, it doesn't do cheezy bread like Panago!
Panago Has Now Come Out With Plant-Based Cheezy Bread!
I was scrolling through Facebook the other day and saw an ad for Panago. Earlier that day, I had been talking about possibly getting pizza from Panago, so I thought that was kind of suspicious. I'm starting to believe that our computers hear what we talk about during the day.
Anyway, they were advertising a deal called the Plant Vibes Combo with a pizza and cheezy bread. I was blown away! I knew someone would eventually try cheesy bread around me, but I didn't expect it to be so soon.
We ordered it that night. When I opened the box, I was a little hesitant to try it because it didn't look like Daiya to me. It looked like breadsticks with mozzarella on it.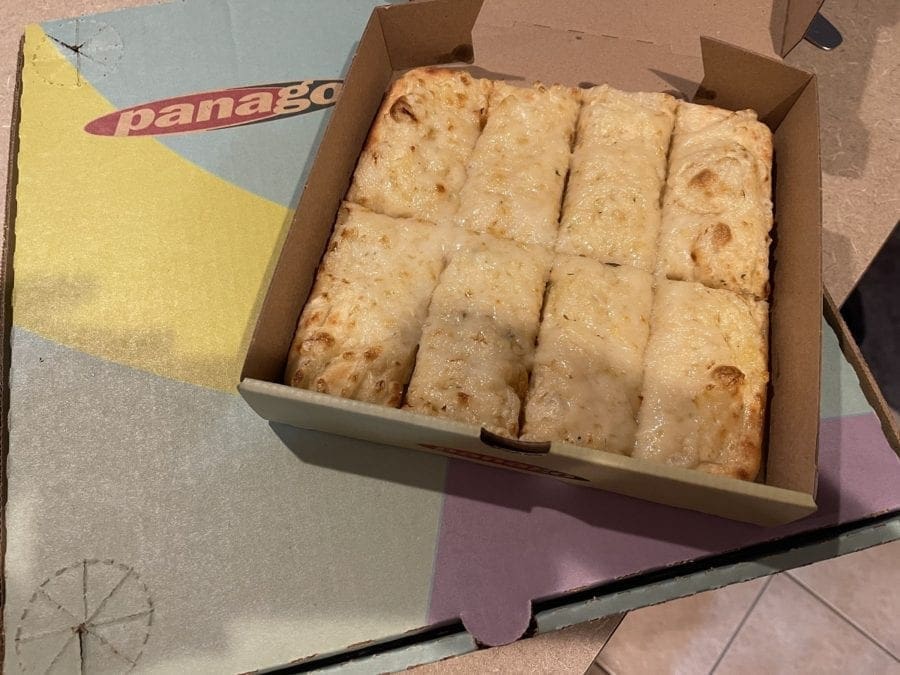 I was hoping for it to be really good, but I didn't expect it to be as good as I remember cheesy bread being.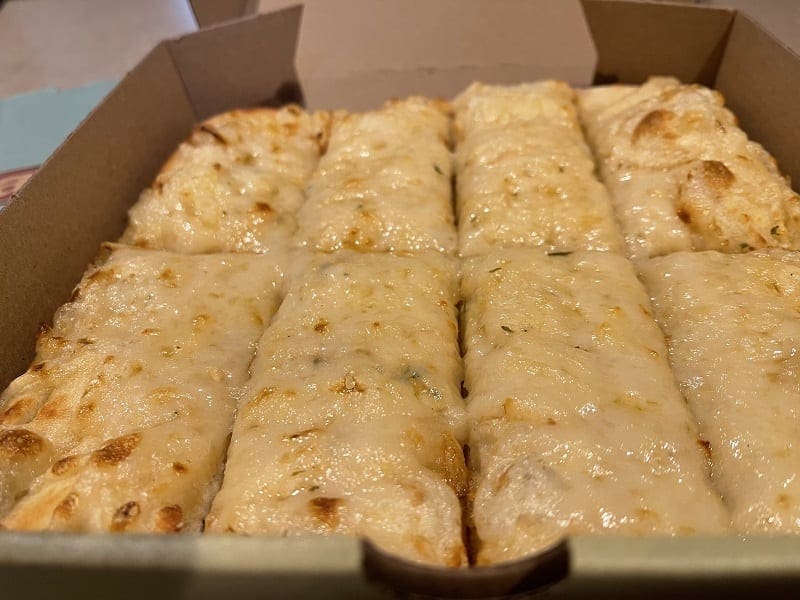 It wasn't the same as Domino's cheesy bread. But it was AMAZING! I can say it's the best thing I've had veganized since going vegan. Of course, that's because I loved cheesy bread before going vegan. It was my go-to comfort food.
Once we started eating it, we could tell it was Daiya by the texture on certain spots in the middle. But, for the most part, it was really hard to convince the brain that it was Daiya. It tastes amazing and the texture around the edges has that nice chewy texture that reminds me of eating pizza with mozzarella.
I managed to leave one piece behind to see how it tasted cold. There was no hint of Daiya when cold, which I was not expecting. It was chewy and delicious cold. I like it as much cold as I do warm.
I still have a hard time believing it was really plant-based. I'll have to order it again to make sure it's the same. 😉
Update: I've ordered it a million times since.
I Recommend Pango's Plant-Based Pizza
We've never had a bad experience with Panago. They have something for everyone, whether you're vegan, vegetarian or just looking for a meatless option.  It gives us the freedom to order good pizza with family members and friends who are not looking for plant-based food.