I wrote a Revive Superfoods review a while ago, but when it comes to their customer service, I only quickly wrote about a quick conversation I had with them. I never had to actually contact customer service with a quality problem, until the other day. That's when their customer service really shone through as beyond excellent. They were quick to answer, and they handled my issue with a more than satisfactory result. Here's what happened.
Ace Venture Delivered Our Revive Superfoods Box
We were home when the Revive Superfoods box was delivered. The guy from Landmark Global, the company that delivered our Revive Superfoods box, rang the doorbell and ran for his life.
My husband went out and brought in the package and told me that it wasn't pretty.
The box was beaten up and wide open.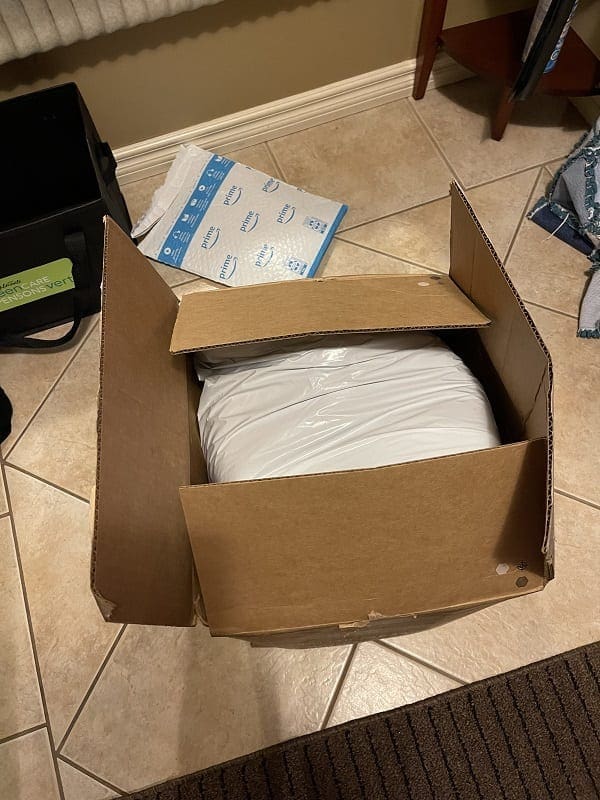 It's really hot here, and I know that it's affected our mood in a slightly negative way at points as we've struggled with the heat. But, even in those moods, we would never deliver a box like this to someone.
The tape on the bottom was cut open.
I was shocked that the delivery driver didn't even try to tape it up so that it didn't look like someone opened and went through our stuff. You think he wouldn't want the customer thinking he did it. But, instead, he just stuck in on the porch like this. He obviously didn't care at all how it looked.
The Packaging Came Apart Inside And Some Smoothies Were Unthawing
I don't think this was Revive Superfoods fault at all. I think the bag fell out of the box after someone cut it open and a Landmark employee stuffed it back in and then everything got shifted around inside.
Revive Superfoods takes pride in its packaging. This was obvious from their awesome response when I wrote in with my concerns about what happened.
Thank you for reaching out to us. I am so sorry to hear you received your package like this. We have strict quality control measures in place on how our customers receive their products, and this is not how your order should have arrived.
The plastic bag that holds everything together was intact, which was good. But the stuff inside had been jolted around to the point that half of the smoothies were no longer by the dry ice and were thawing out.
You can see that as soon as I cut the bag open, the first thing I saw was a smoothie that didn't have that frozen look that the Revive Superfoods smoothies usually have.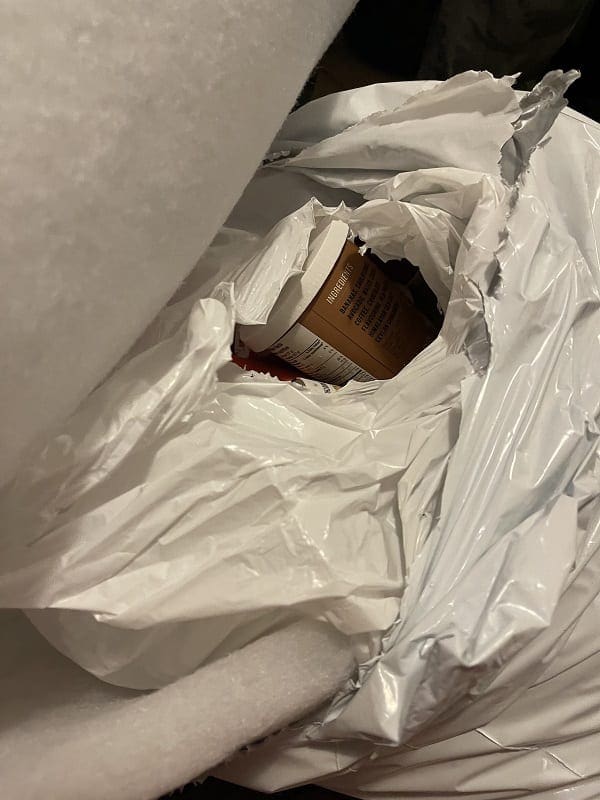 As I started digging around and pulling out the smoothies it became apparent that half of them had migrated away from the dry ice and were unthawing in their new home.
The other half was still by the dry ice and was completely frozen inside and out.
Here's a side by side of one that was still frozen and one that was unthawing. I took the pics within seconds of pulling them out from the bag. Revive Superfoods smoothies normally come totally frosted and frozen like the one on the right.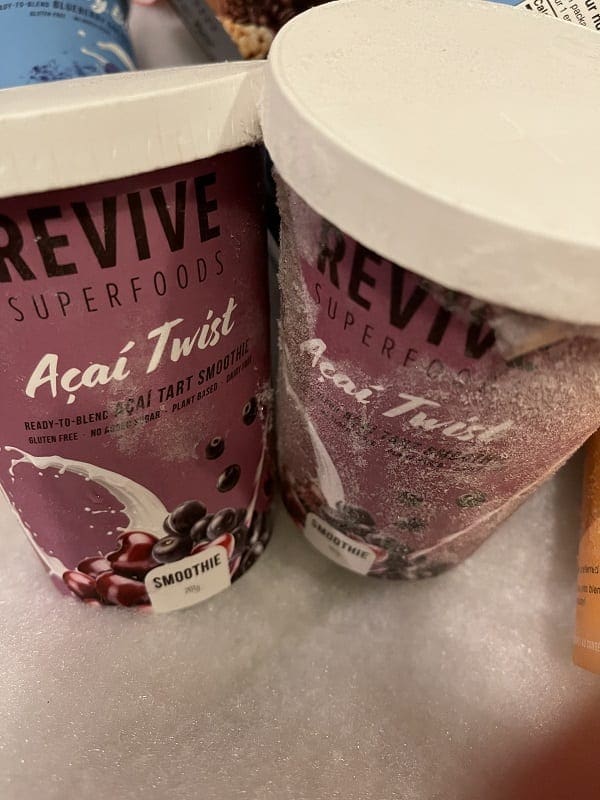 Revive Superfoods Customer Service Rocks
I wrote in right away letting them know what happened and they wrote me back a few hours later letting me know that they were very sorry and were sending us a fresh new box!
I have gone ahead and scheduled the shipment of a fresh new box to be delivered on July 1st. Once again, I apologize for any inconvenience this may have caused and can't wait for you to receive your fresh box!
Are you kidding me? That's amazing!
I was expecting much less than that. I thought maybe they would offer a discount on our next box. But this was extra awesome.
When it comes to food, it can be hard to deliver through the mail and we know this.
We order from Amazon a lot, and that's often a roll of the dice. While we are supposed to be getting two-day shipping or less with our prime membership, sometimes that doesn't happen.
When we order from Vegan Supply, we have to order the quickest shipping to make sure that everything that's supposed to be cold actually arrives cold.
Then we hope that the delivery company is actually considerate of the boxes and what might be in them.
But it's a crapshoot sometimes.
Sometimes things happen while in transit from the company to your house that neither of you has control over.
That's why I appreciate that Revive Superfoods customer service was so good. They understood that and made it right in a big way.
I Recommend You Try Revive Superfoods (Get 50% Off Your First Box With My Code)
I liked Revive Superfoods before, but now I absolutely love their company. That kind of customer service has elevated how I view them and their products.
If you want some nutritious and delicious smoothies (or soups, meals, or falafel pops) delivered to you frozen, guaranteed, then I recommend Revive Superfoods!
Also, if you sign up to Revive Superfoods, you can earn referral points with a referral link to help you save on your next box. It's a win-win for everyone.
For instance, you can get 50% off your first box by using my referral link here! Just create your box and your savings will automatically be applied at checkout. Note: After trying out the link myself, I noticed that you shouldn't click on the 'Get 20% off' button on their site or you will get that instead of the 50%. Therefore, just create the box you want and you should see the discount on the checkout page. And if it's not there automatically, you can use the referral code FAR1477890.