Have I mentioned how much I love the conqueror challenge? Yes? Well, let me do it again! I think the Conqueror Challenge is a huge motivating tool for moving more, and I only wish I had thought of creating something like it before they did. I think it's a wonderful tool that's helping many people.
Note: Not sure what the Conqueror Challenge is? You can read my Conqueror Challenge review here.
I got my first medal in the mail not long ago. It's for the Romantic Road Challenge, and I absolutely love it. The top opens up and it's heavy and pretty. It's every bit as nice as they say the Conqueror Challenge medals are. They aren't lying.
I had nowhere to hang it, though, so I just hung it on a hook on one of my shelves. This is what it looked like.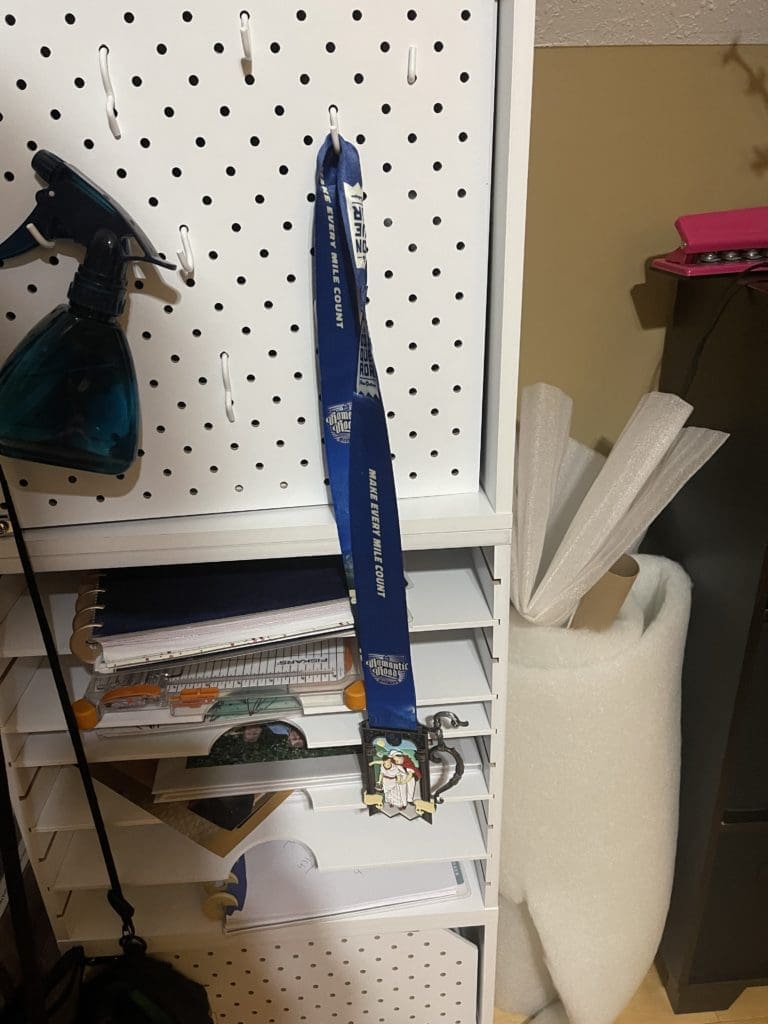 Pretty sad, right?
Then Christmas came and one of my presents was three of the Honeycomb Medal Hangers from Conqueror.
I had never seen them before, but once I got them home and figure out how to use them, I could feel the difference immediately.
It's not just about how much better it looks in the Honeycomb Medal Hanger. The hanger makes the medal look good, but it also helps display it in a way that is more motivating and encouraging. Much more motivating and encouraging than looking at it as it hangs off a shelf hook.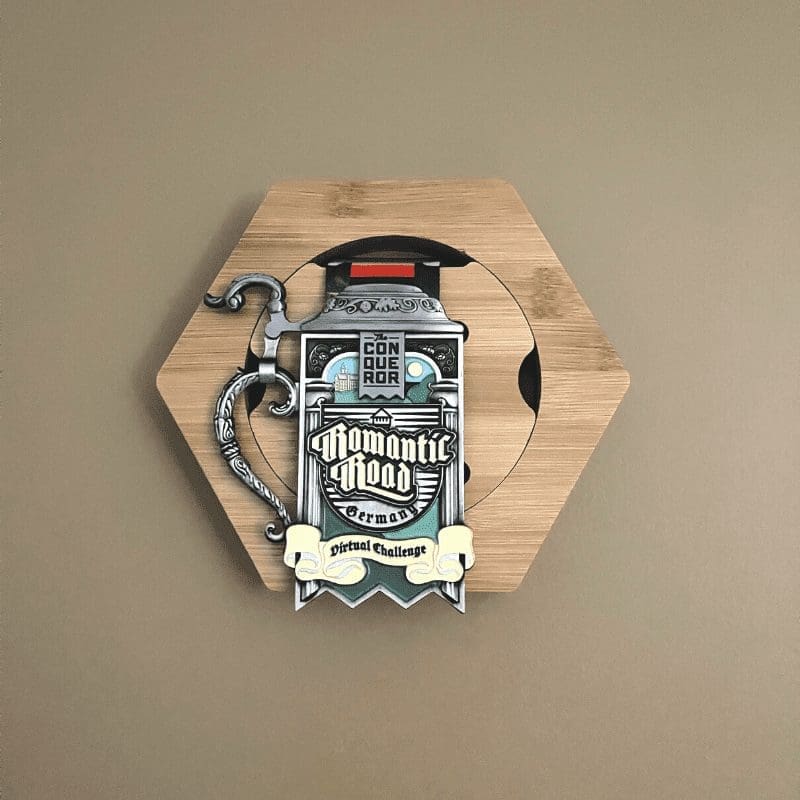 I have it in my office right by the door going out. Every time I walk by it or look at it from my desk, I think about how I accomplished at least one goal this past year (yeah, it's been a bad year) and how, if I can do that, I can keep going onto other goals.
I'm set to finish another Conqueror Challenge in a few days here, and when I receive my next medal, I'll show you how to put it in the Honeycomb Medal Hanger in a video. But it's really simple to do.
Step 1: Take It Out Of Package
The Honeycomb Medal Hanger comes all protected in bubble wrap. I order a ton of stuff online, and I appreciate this fact. Things go bump easily and get scratched often, and if you are going to pay for some pretty, you want it to stay pretty.
2. Remove The Insert And Slide Ribbon Through Slits
You are going to hang your medal by sliding the ribbon through the two slits in the insert and then hanging the medal over those inserts.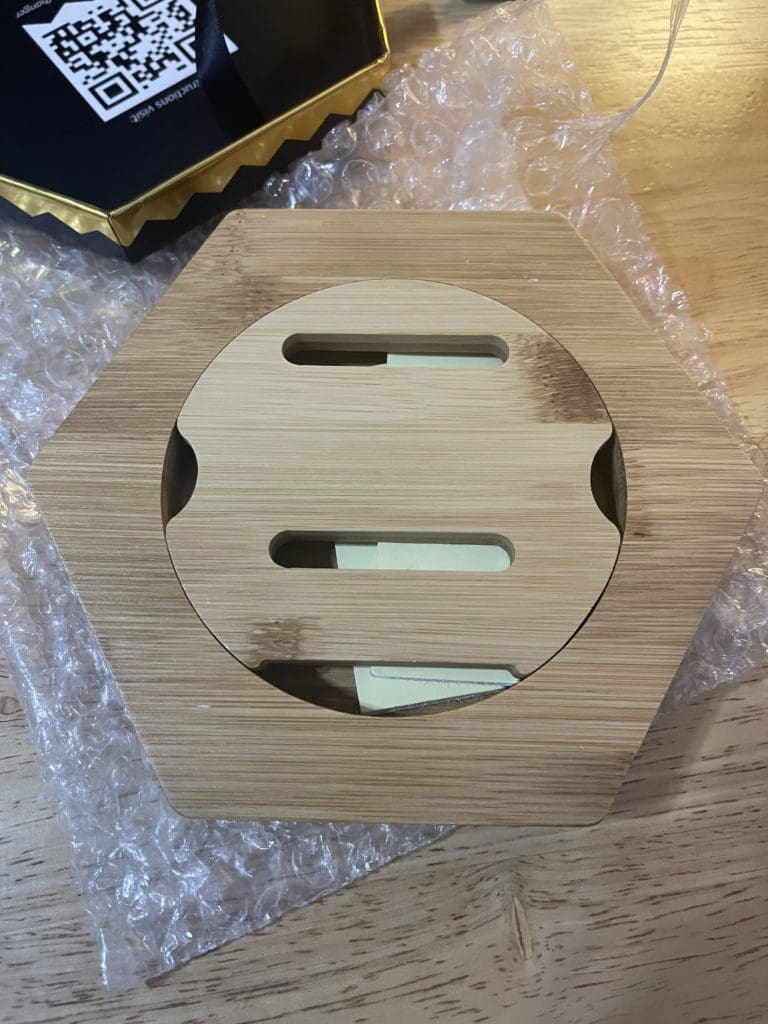 The insert is magnetic, with four magnets holding it in place.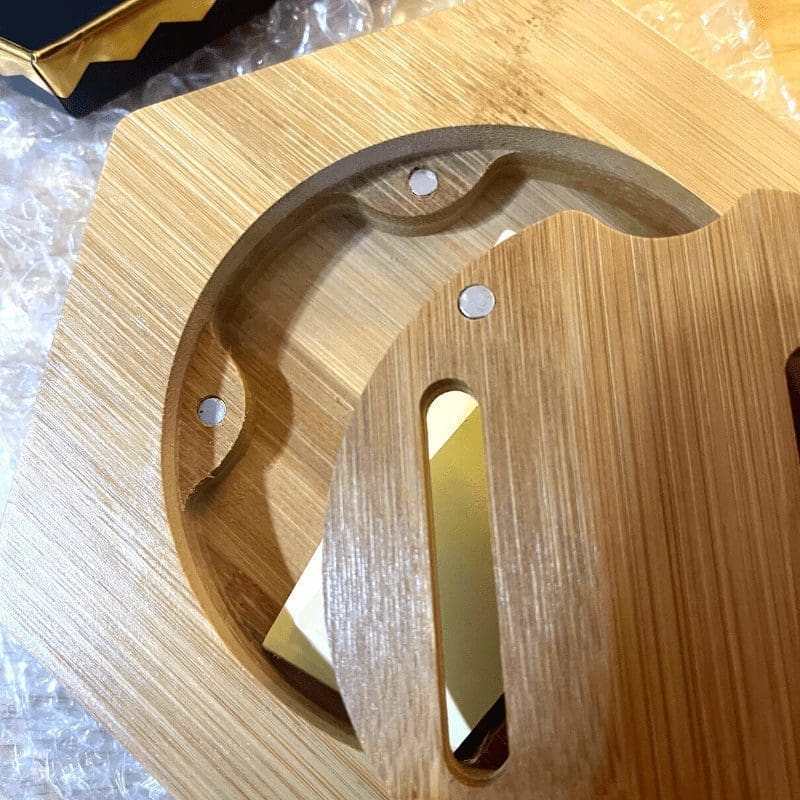 I found that you really have to get the ribbon in the center in order for all those magnets to attach and hold. I had problems getting all four magnets to hold because the ribbon is huge, and it kept getting in the way.
After getting them all to go together, I was a little worried it would come busting apart with the pressure of the ribbon and medal, so I put a soft blanket underneath on the floor in case it fell. But it's held up there. It's stable.
Make Sure Your Ribbon Comes Out The Flat Part
This might be obvious to most people, but I did it upside down at first, so it's a point I thought I would point out.
Make sure you thread the ribbon in starting from the flat part, which is the top of the hanger. This way your ribbon will have room to hang over and your magnets will all connect.
How Does It Hang On The Wall?
Looking at the above picture, you can see two yellow things inside the Honeycomb Medal Hanger. Those are two-sided tapes. And they are thick and strong!
I had taken them out before I knew what they were. One got pushed to the side so when I realized what it was for, I thought that there was only one to use for the hanger. I put it vertically on the back of the hanger and hung it up, and it stuck. I then realized that there was another tape available, and I tried to take the hanger off the wall, but it didn't want to come off. With some force, I managed to rip off the inside of the double-sided tape and leave one side on the wall.
In short, one double-sided tape did the trick to hang it well but use two because it just adds even more security.
I Think The Honeycomb Medal Hanger Is Worth It
The Honeycomb Medal Hanger makes the medal look better and, because it looks so nice, you feel better about it. It raises its meaning and symbolism, just like all nice things.
I think the cost is pretty good. The more you order, the more you save, but if you buy just one Honeycomb Medal Hanger, it will cost you $19.99 USD plus shipping. I think it's worth it. It's a beautiful display that helps you recognize and, most importantly, feel your accomplishment.