If you have a Fitbit or track your steps or exercise at all, you will be interested in the Conqueror Challenges. The challenges offer you a way to go after a S.M.A.R.T fitness goal in a fun and motivating way.
Basically, you pick a challenge with a distance you like, and then set a time you want to accomplish it. Then you can either set up automatic posting from something such as a Fitbit, or you can manually post how far you go each day and track your progress through their app.
Many of the challenges come with Google's Street View so you can see how far you've come and virtually visualize yourself completing the challenge.
In short, the Conqueror Challenges are motivating, fun, and addictive.
I last wrote about The Grand Canyon challenge that I finished in April. After that, I finished another 5 challenges.
It wasn't a bad year for walking. I did 2145 KM worth according to my profile. I can guarantee that's way more than I would have done if I wasn't doing walking challenges. When you work online, it's easy to sit down and park your butt there for hours on end. Sometimes motivation, like needing to finish a challenge, helps you get up and get moving.
Following are the 5 other challenges I did in 2022.
1. Niagra Falls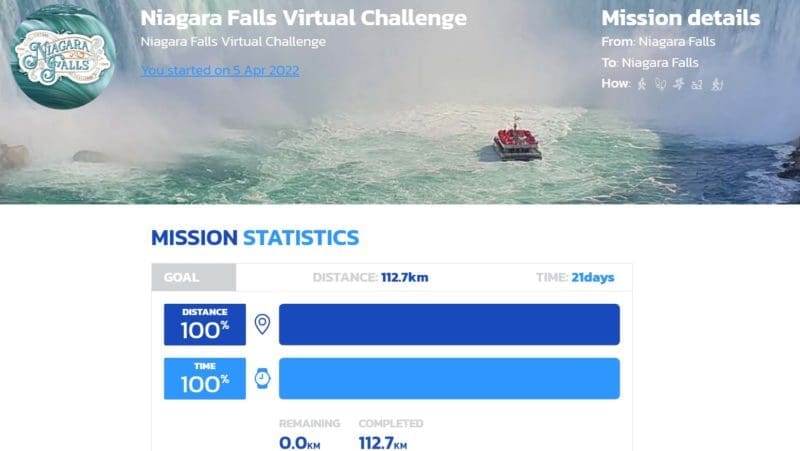 The Niagara Falls Virtual Challenge starts at Niagara-on-the-Lake in Canada and ends in Fort Niagara State Park in the USA.
That's the details.
Besides looking at the falls themselves, I found this to be boring on the virtual map. It was a lot of just walking along the edge of the water. I quickly lost interest in the route. I'm sure I missed out on some cool sights and if I get the time, I'll probably go back and scroll through the virtual map to see if it gets more exciting.
2. St. Francis Way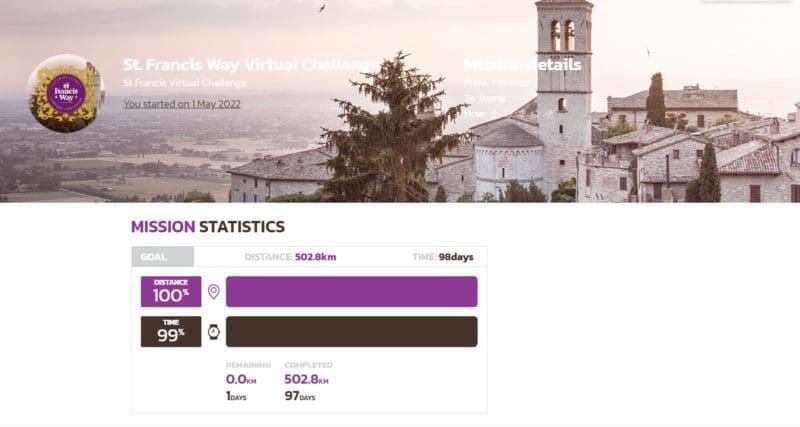 This challenge takes you down a road from Florence to the Vatican.
Virtually, this challenge is beautiful.
My husband lived in Italy for many years when he was younger and it look just like he described, hilly, green, and gorgeous.
The towns and homes are full of character and I loved seeing things like clothes hanging to dry between two different homes, which my husband said is common in Italy as two people will tie a line between their homes and take turns using it.
It took me a long time to finish this challenge, but I finished a day earlier than my goal.
3. Nakasendo Trail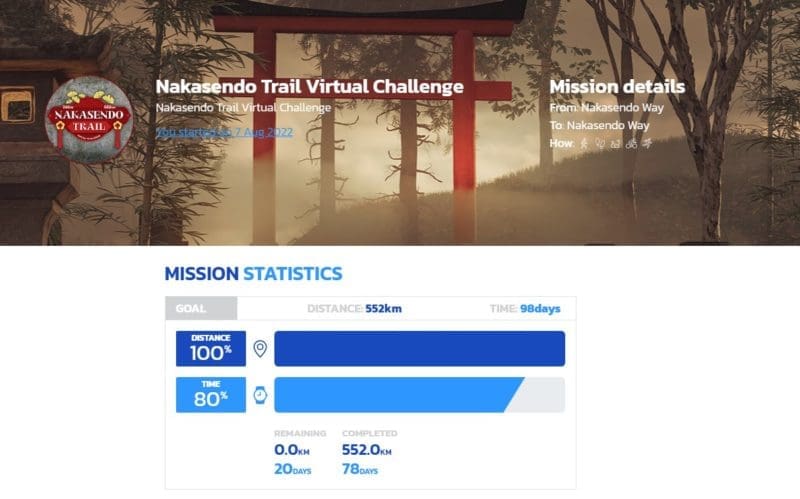 This was a very cool virtual walking challenge from Kyoto to Tokyo. I enjoyed this one and paid attention to where I was as I walked.
I was able to learn more about the history of the Nakasendo Trail and its different towns, as well as gain a greater appreciation for Japanese culture.
I spent a lot of time looking at the shops and vending machines on the streets, as well as the homes and how they landscaped their yards. Lots of people were biking and walking in the towns. The whole route was just fascinating and it makes me want to visit Japan in person.
There was one virtual postcard that led to a video someone had taken walking through the two of Kyoto, and it was BEAUTIFUL, to say the least.
4. Transylvania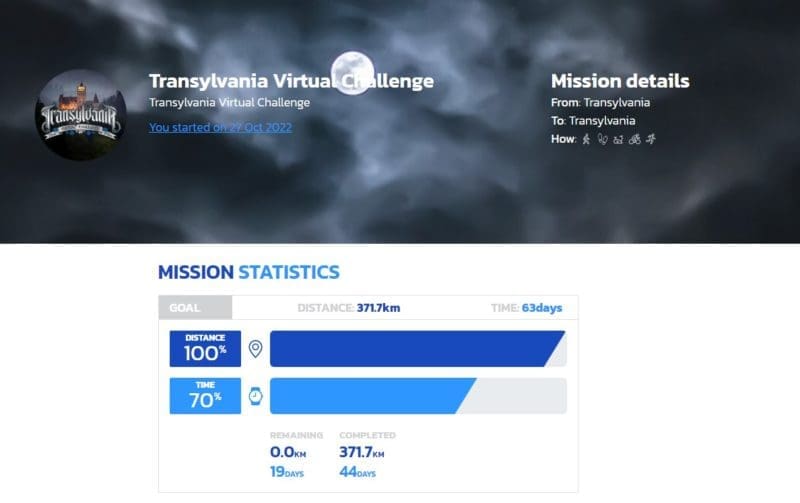 It was near Halloween when I started this Conqueror challenge, so Transylvania hit me the right way. The medal for this challenge is my favorite medal so far.
This is another challenge where I didn't spend a lot of time on Streetview and need to go back through. I was caught up in a lot of work and stress at the time, and I was too busy either trying to figure things out or giving myself some downtime to stop worrying about things.
I did spend some time on Street View though, and the one thing I remember seeing was a broken-down car with some teenagers standing beside it watching the Google car go by.
5. Cotswold Way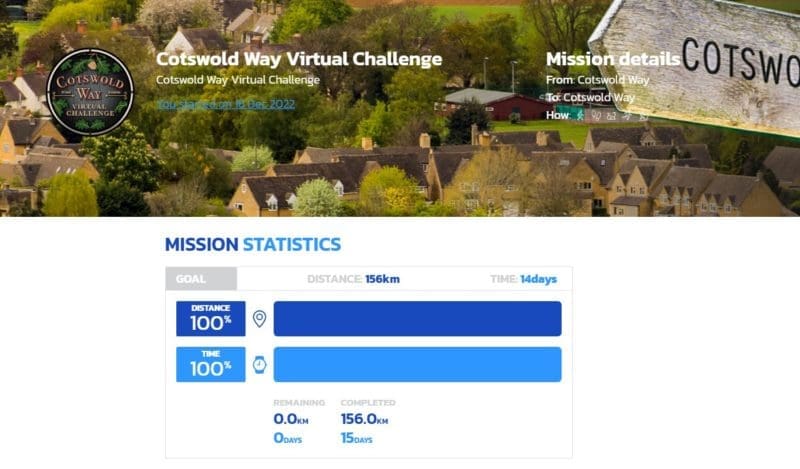 I took on this Conqueror challenge because I wanted to finish out the year strong by completing one more walking challenge. I have been walking my butt off at my offline job, so I figured I could bang out 156 km in a few weeks, and I was right.
I didn't pay any attention to the Street View on this one because I was too busy working both offline and online and trying to take care of all my responsibilities while spending time with my husband and dog. so this walking challenge was more about keeping me motivated to go to work and move as much as possible at work.
You can learn more about these challenges and all the other challenges on the Conqueror site here.