I want to make money as quickly as everyone else. So when I saw Inspire3's new product called Manifesting Live, and the free Manifest $10K Journal, I had to try it.
The free manifesting journal is a 3-week journal that you print out. It has daily steps to follow in order to manifest $10,000 in 3 weeks. It uses the 5-step manifesting technique from Inspire3's manifesting process. You can also get the Manifesting Live course with Carl Harvey.
I tried the free manifesting journal for the full 3 weeks first.
The Manifest 10k In 3 Weeks Journal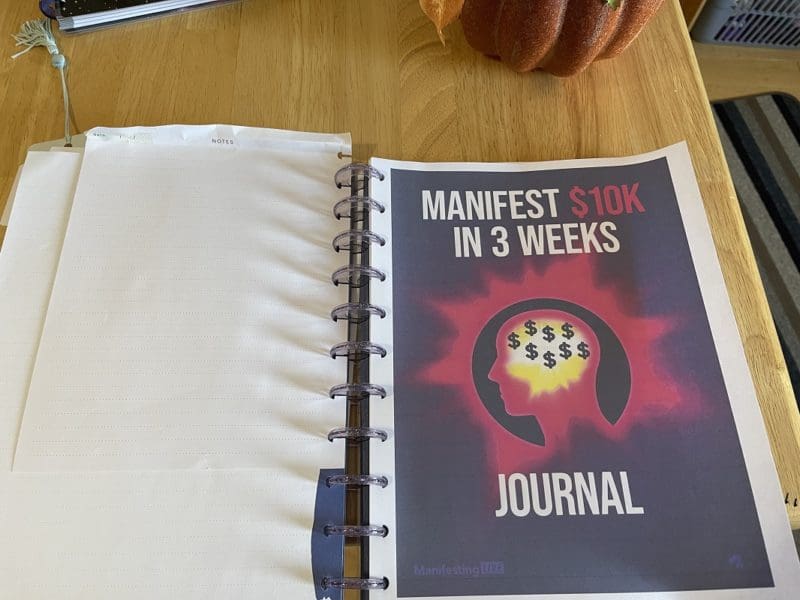 The free manifesting journal includes everything you need to make the formula work, including space to write how you feel and any observations you are making. It's pretty much a guided journal for three weeks.
I printed it off, threw it in a Happy Planner notebook, and got excited!
I truly believed I was going to manifest an extra $10k out of nowhere.
The journal uses the No-BS Manifesting steps. I'm very familiar with them. I haven't used them in a while.
One of the steps requires you to get pumped about what you want to receive, so I went onto Canva and made a video that represented me making 10k in three weeks.
I was pumped for the first week, but then I started to feel doubt. This year has been a hell of a bad year for me, and doubt, regret, and fear have been creeping in every chance they can.
I did all the steps required… and nothing.
I'm not sure if it was all my negative emotions that held me back. It could be. I totally believe that if you are not in line with manifesting something energetically, you won't manifest it. And while I was using this free manifesting journal, I was having lots of unexpected problems pop up in my life. So it was hard to stay in a high vibration, despite my best efforts.
In any case, you can get this manifesting journal for free here. It's free. So it's worth a shot. It only takes a few minutes each morning to complete.
Moving On To Manifesting Live With Carl Harvey
The premise of the Manifesting Live program is to help you boost all 5 areas of the manifesting technique used – focus, boost, release, gratitude, and action.
The Manifesting Live program is supposed to make you excited and clear about what you want, as well as help you release any blockages that are holding you back from manifesting what you want. And, it's supposed to help you feel more grateful and inspired to take action.
I remember Carl Harvey from Mindvalley years ago. I thought he was in personal relations of some sort, but according to his LinkedIn profile, he is the head of the copywriting team at Mindvalley. I remember seeing him in things like videos or courses years ago, but I haven't seen him there in a while.
He has a lot of enthusiasm, and in Manifesting Live, that enthusiasm is on 2x speed.
I sat down and listened to the course one night while I was awake and couldn't sleep. I was definitely stuck in a negative place, and by the end of the course, I felt really good and hopeful. Especially after module 5, where he walks you through some subconscious reprogramming that involves visualization, EFT, and more visualization.
There are 6 video parts to the Manifesting Live course, and it's all done with Carl Harvey.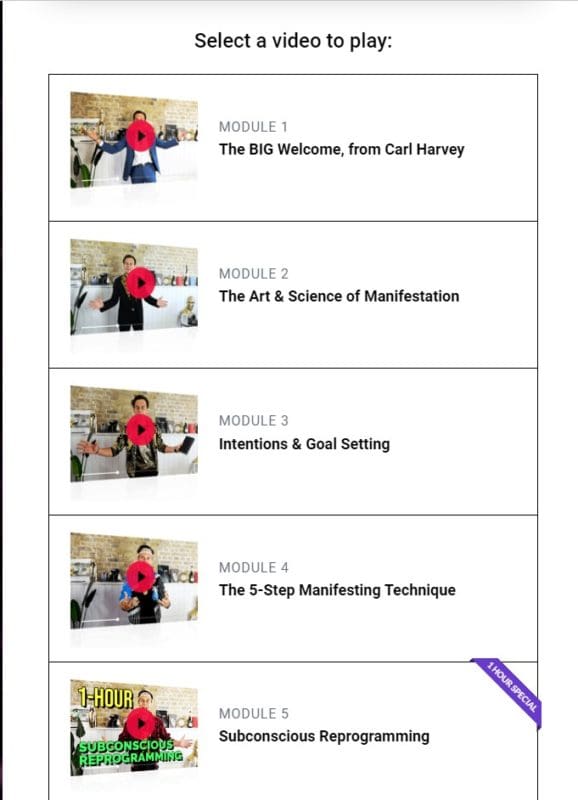 He explains the science behind manifestation, talks about goal setting and intentions, explains the manifesting technique used (the same one as in the journal), and takes you through some subconscious reprogramming. Then in the last module, he talks about the daily inspired steps.
With Manifesting Live you also get a 15-minute money meditation audio. This is with the same woman who does all of Inspire3's hypnosis live and other hypnosis sessions. And you get an eBook to complement the course.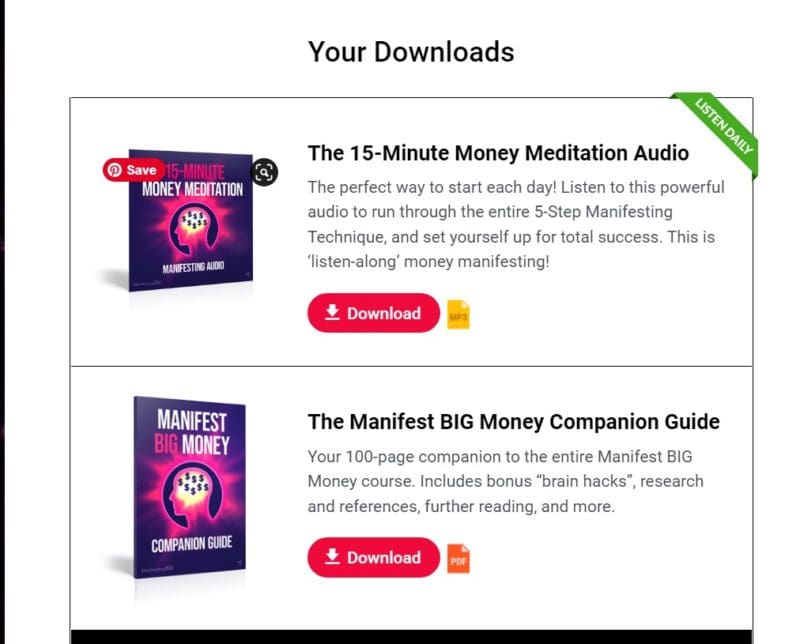 You also get some Manifesting Live bonuses, such as a cheat sheet, quick start guide, free session from Zen12. And you, of course, get the manifesting 10k journal.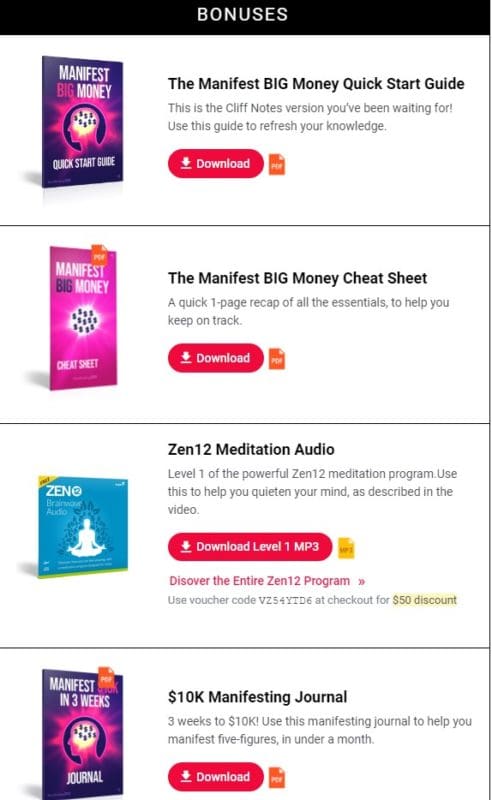 And then I got the upgrades for Manifesting Live, which includes hypnosis sessions to help you master each step. Again, these hypnosis sessions are done with the same woman that does Hypnosis Live. This is what I'm working on right now as we move toward 2023.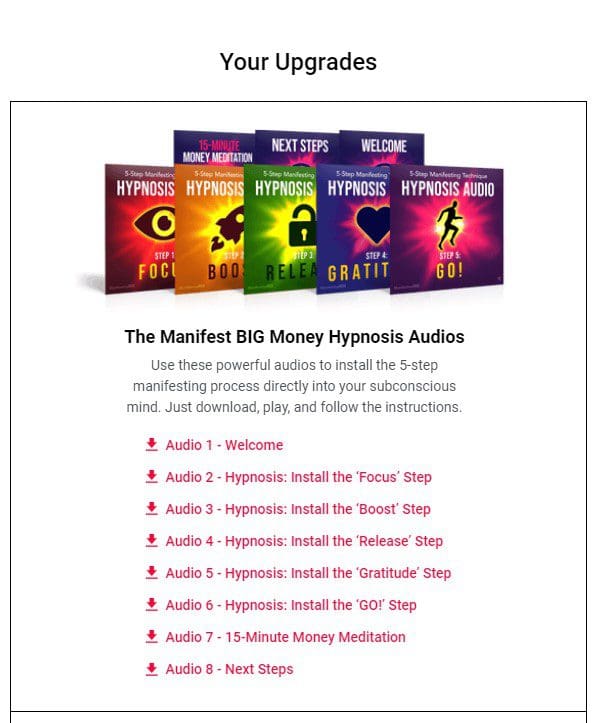 2021 wasn't the best year for us. So, at the start of 2022, I declared it was going to be the best year ever. That very same day, I locked myself out of my house and we had to break a window to get in. It was -40 Degrees Celsius outside and so it cost us a lot of money to have someone come within a few days to fix it.
Ever since that day, it seems like everything that could go wrong has, and it hasn't let up for us at all. Every month has brought one or more negative experiences into our lives. It's just never-ending.
It's hard to stay in a positive, manifesting kind of mood when you keep getting hit with a bat. And I'll admit that I started to feel like nothing was going to work – ever.
Despite all my education with Mindvalley teachers and work in personal growth, life was beating me down.
This Manifesting Live course is the real deal. Its focus is on helping you get where you need to be to start making things happen in your life. I can see that from past experiences and from how I feel when I listen to things in the course. I get that old feeling of hope and desire back.
The problem is those feelings fade quickly because life has been hitting me with a bat, so I think I need some time and repetitive listening to override all the negative things that I've been telling myself this year and get back into a positive state of mind where manifesting what I want is much easier.
After going through everything, it's obvious that Manifesting Live is about knowing what you want and going after it with as little resistance in the way as possible.
I'm going to be working on these audios this last month of 2022 in an effort to start 2023 off with the same passion I had at the beginning of 2022. I'm also going to be heading back to Reiki in a few days, which I haven't gone to in months! I'm hoping my work will pay off and I will start manifesting things as amazing as I have in the past, or even better.
I'll update as I go along to see what kind of effects committing to the process has had on me.
Note: Manifesting Live also has a free $5k audio gift. I haven't listened to it yet, but I'm going to listen to it too. If you want to check out the actual course with Carl Harvey, you can do that here.