Last Updated on April 26, 2020 by Kari
Before I went vegan, I loved cheese. But, a lot of dairy cheese started to seem mucousy to me and started tasting weird. That helped me want to stop eating cheese, but I still ate the stuff that tasted good to me and held it's texture. Then, I watched What The Health and stopped eating cheese immediately, which meant that I needed to find some replacements stat. It took me a little longer than a few days or months to find the replacements that I really like, but I've found them and have some favorite vegan cheeses that I use for everyday meals.
1. My Favorite Vegan Parmesan
Earth Island, also known as Follow Your Heart, has the best-grated parmesan. I use it on all pasta dishes, but I also put it into dips for an extra parmesan taste.
To me, it tastes almost exactly like parmesan. It does melt into a pasta dish than dairy parmesan, so you will find yourself shaking it on quite a bit just so you can see it. I recommend just putting a little on and eating it and then putting a little bit more on.
However, if you microwave it, it clumps up just like regular parmesan and goes nowhere!
2. My Favorite Spicy Cheese Sauce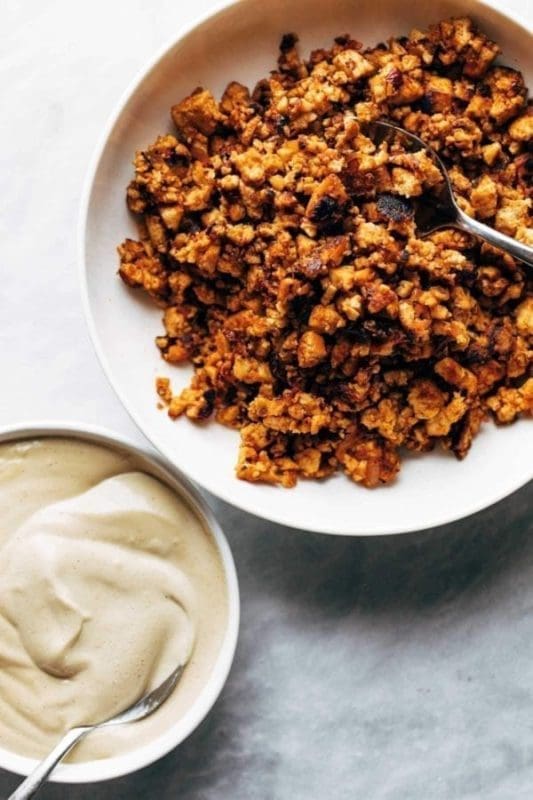 OMG, this cashew-based queso sauce from Pinch Of Yum is so good! It's part of a bigger recipe, the Vegan Crunchwrap Supreme, but I just make the sauce every time I'm having burritos, nachos, or anything that requires a cheese sauce with a kick… which is pretty much everything.
The only thing I add to this recipe is nutritional yeast – and a lot of it!
3. My Favorite Vegan Cheeses To Eat With Crackers
There are actually two vegan kinds of cheese I like with crackers.
First, Miyoko's cheese – any flavor from their list of hard cheeses – but usually the Double Cream Chive one because that's what my local store sells.
Second, this cashew-based cheeseball from It Doesn't Taste Like Chicken. Although, I usually leave the cranberry and thyme out and just make the cheeseball as is. Sometimes I will roll it in nuts.  Even my non-vegan parents couldn't stop eating this cheeseball.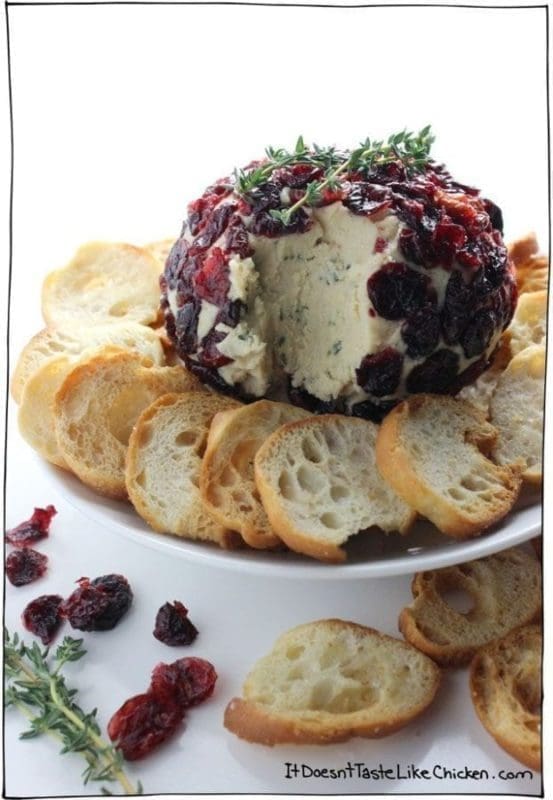 4. Ricotta Cheese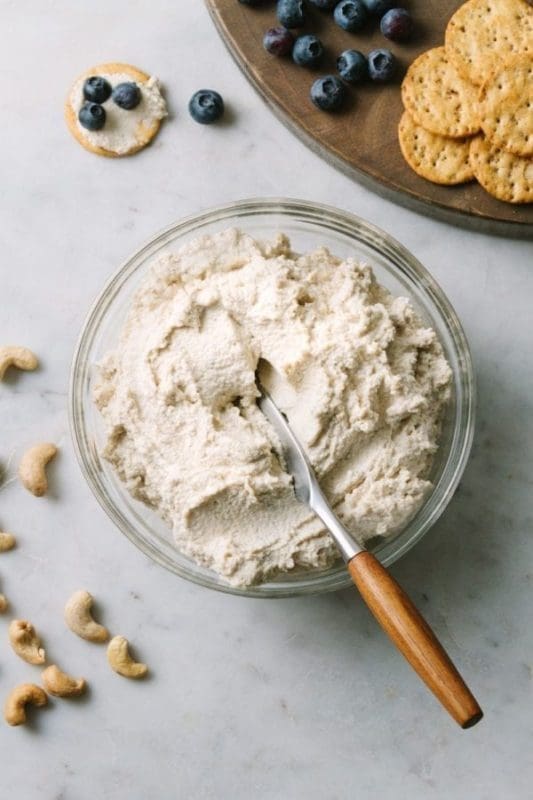 This cashew-based ricotta is so good. I use it in my lasagna, stuffed shells, or any other recipe where ricotta used to go. This ricotta cheese tastes good when it's cooked and it tastes good when you grab a bite of lasagna straight from the fridge. It's just so good.
5. Mozzarella
Again, Miyoko's cheese wins with this one. Miyoko's Mozzarella is creamy and tastes buttery on top of pizza or pasta dishes.
But, it doesn't have that chewy, fatty taste that dairy mozzarella gets when it is cooked on top of things like baked pasta or pizza. That was my favorite part of eating mozzarella before I went vegan. I would actually just melt mozzarella on a plate and eat it that way.
I'm still waiting for a perfect mozzarella product to come out, but in the meantime, Miyoko's is the best vegan replacement I've found.