Last Updated on September 27, 2020 by Kari
The other day I wrote a review on Rewire Your Anxious Brain. It's a book that gives you insight into how and why anxiety happens and how to overcome it. I talked about how my thoughts tend to get the best of me and that's why I find certain tools and courses help me navigate the direction of my thoughts and tackle the root cause of where my anxiety, worry, fear, or panic are coming from. Hypnosis is one of those tools.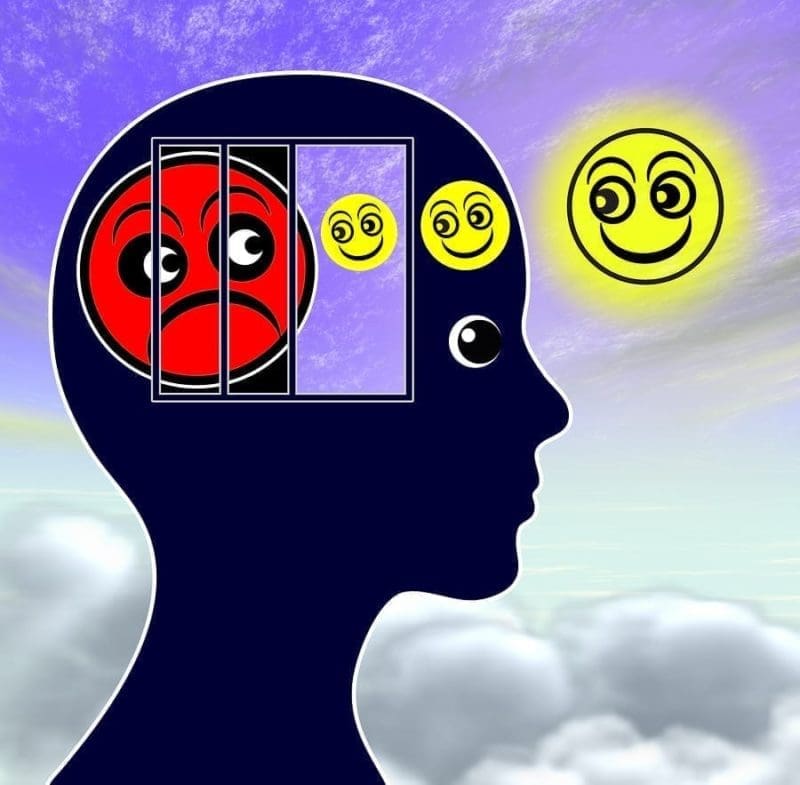 A while ago, I talked about how a hypnosis session from Hypnosis Live helped me calm down during an extremely anxious time in my life. A few weeks ago, I decided to rekindle my love for hypnosis and that led me back to Hypnosis Downloads – a huge site with hypnosis audios, scripts, courses, and more. If you are interested in hypnosis, then you will be interested in Hypnosis Downloads.
Hypnosis Downloads Has Been Around For A Long Time
I remember seeing Hypnosis Downloads over a decade ago when I was first starting online and working on personal development. Apparently, they've been around since 2003.
I would say that this company and Hypnosis Live are the only two companies you need to use for your self-hypnosis needs. They both offer great products and great customer service, and between the two of them, you should be able to find all the hypnosis sessions you need for the rest of your life.
But, Hypnosis Downloads is bigger than Hypnosis Live as of now by a long shot. They have about 1000 more sessions available!
Your Downloads Stay In Your Account Forever
I know that I bought a few hypnosis sessions years ago, but when I checked out Hypnosis Downloads I only had one session from about 4 years ago for noise sensitivity. I must have used a different email address for my other downloads. I would never be able to remember what that was as it was probably associated with a website I had at the time.
But, it goes to show you that you can keep your account around for years and, if you sign back in with the right email, you come back and find a download still waiting for you!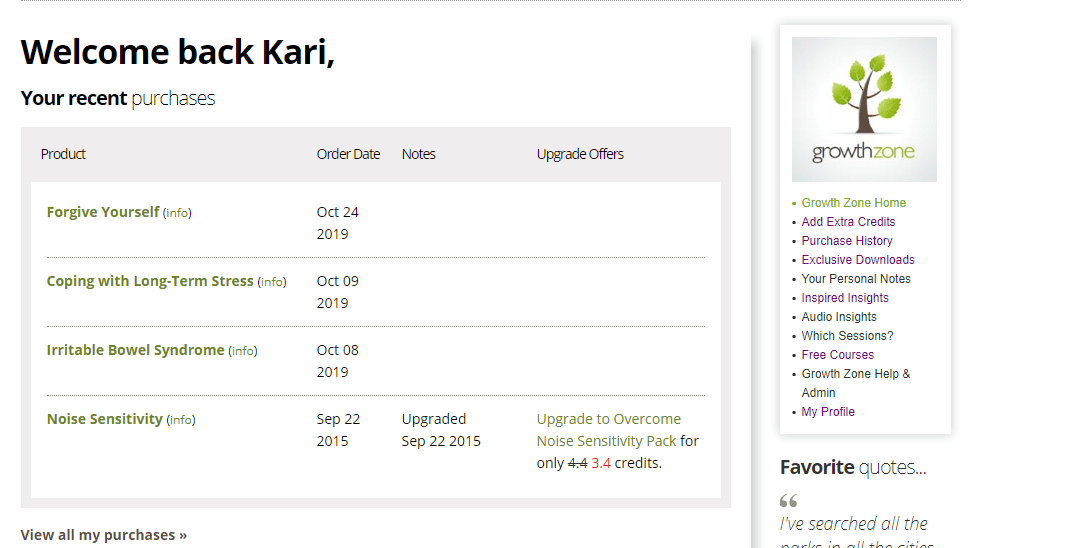 I Found Hypnosis Downloads Again Thanks To Irritable Bowel Syndrome
Talking about this may be too much information, but I need to because it's the reason I ended up on Hypnosis Downloads. A few weeks ago, I was having a lot of issues with my bowels and was getting a lot of tests done to find out what it was. I was pretty sure it was IBS, so I searched Hypnosis Live but didn't find anything for IBS. (Looking later on, I discovered that they do have a hypnosis session for IBS!) Then I remembered Hypnosis Downloads, and, of course, they had a hypnosis session for IBS. I bought it and listened to it and found that I had less pain immediately after listening to the session.
Before I listened to the hypnosis download for IBS, I was having a ton of stomach pain – the most I've ever had in my life. I was stressing out about the pain, worried about what it could be, but knowing that it was likely IBS. After listening to the session, I was finally able to relax and my pain diminished by about 90%. A few days of listening to the hypnosis and my pain went away. I believe that stress and worry around my gut health were causing the intense pain and the hypnosis helped me let go of that stress and worry and gave me the space to relax and take action instead of worrying.
The day after I bought the IBS hypnosis download, I bought a long-term stress download. I believe that chronic stress was a huge reason my bowels had gotten so bad. I spent the last few years taking care of a sick loved one, and that caused a lot of stress on my body. When he died a few months ago, that stress didn't go away. I think stressing out about certain things had been permanently etched into my brain, and so I kept thinking the same old thoughts and causing the same old anxiety and worry in my body.
The coping with long-term stress download helped me see things differently and has given me a break from that old, worn way of thinking. I've been able to think new thoughts about various issues, and I'm working on making them my new normal with the hypnosis sessions, the positive affirmation Subliminal 360 software, and good old fashioned daily positive self-talk.
The truth is that I've been using a lot of tools in the past month or so to help me change my way of thinking, and I can honestly say, the more the merrier. One tool may help with one area of your life while another tool can help with another. And combined, they keep you on track to a place you want to go to.
I've Joined The Growth Zone
I've decided that I need to make hypnosis a daily part of my life. So, I joined Hypnosis Download's Growth Zone. It's a monthly membership.
The main benefit for me is that you get one credit every two weeks applied to your account. You can use this credit to buy a hypnosis download, or you can save it and accumulate credits to buy courses or bundles.
For me, I've decided to listen to one download for a few weeks and then, with my new credit, buy another one that I can use for a few weeks. In other words, I will be constantly working on issues that I want to tackle and retraining my subconscious mind to think better, focus on better things, and help me behave and feel better as a result.
Besides the credit every two weeks, you get a few other perks to the membership. The big ones being the following three things.
Audio Insights: As of now, there are 82 separate audios that you can listen to that cover topics around hypnosis and behavior and thoughts.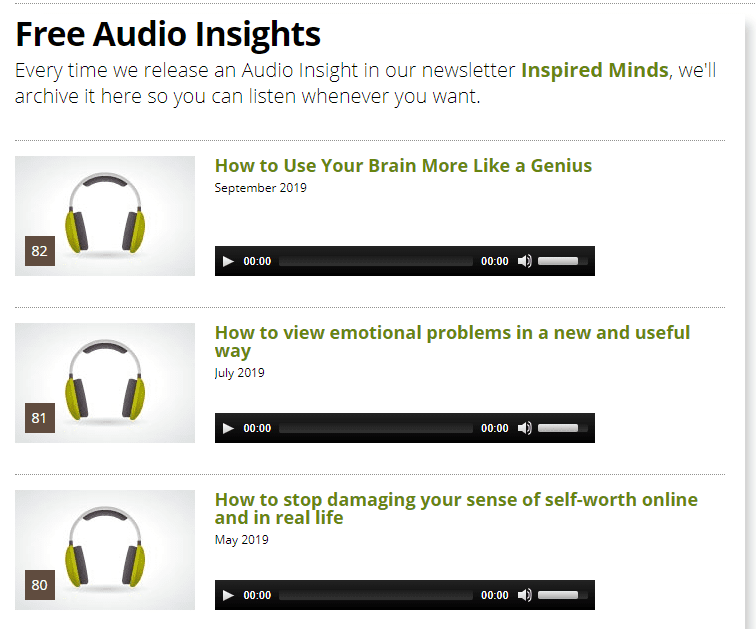 Exclusive Downloads: This includes downloads and scripts that only Growth Members have access to. They do cost you a credit to buy, but, they are only available to membership holders.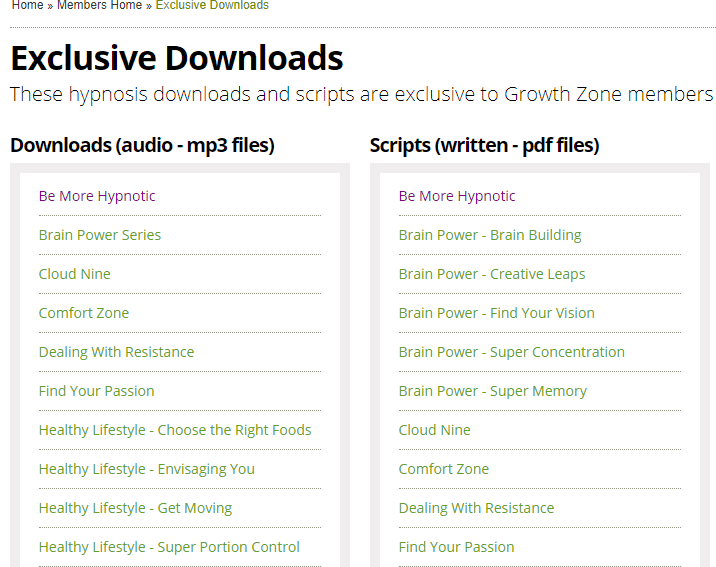 Credits at a discount: You get up to 40% of the normal price for one credit. You can also bundle and buy lots of credits at once to save even more.
There's more to it than this, but these are the big things that you get with your membership.
If you are interested in getting a steady stream of hypnosis sessions or want to learn more about the membership program, you can learn all about the Growth Zone here. I think it's well worth the cost.
The Hypnosis Download App Works Great
The app makes is really easy to listen to your downloads wherever you want. I have had no problems with the app so far. As you can see in the following screenshot, it's really easy to access and listen to your downloads.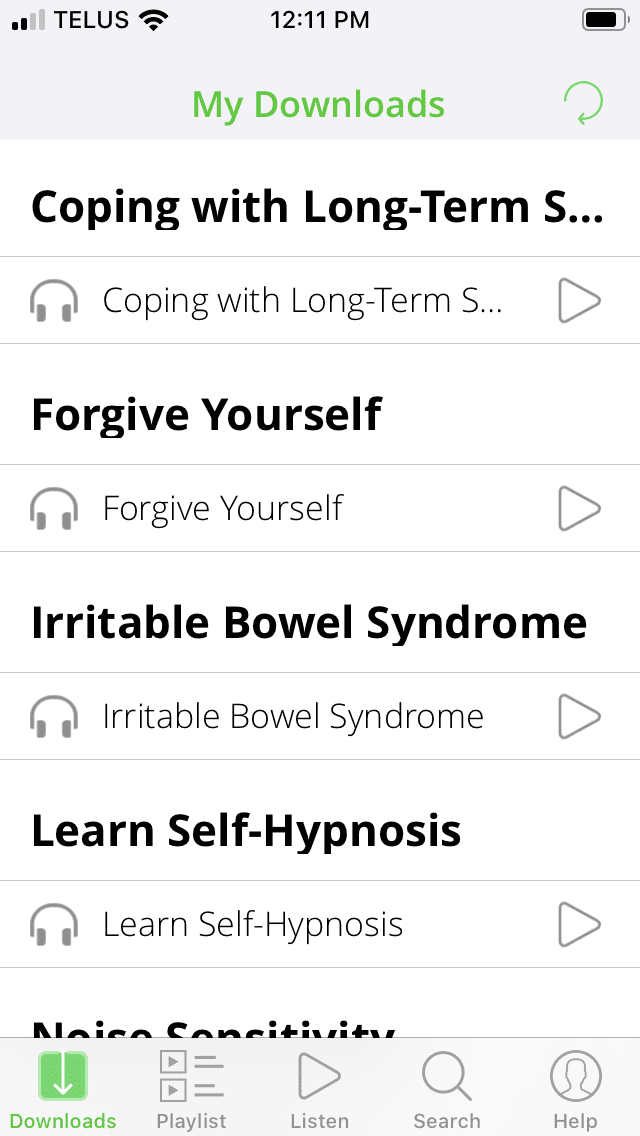 Hypnosis Downloads Has Pretty Much Anything You Can Think Of
If you are struggling with something, Hypnosis Downloads probably has a hypnosis session that can help.
I've found that when you type into the search box for one thing, and they don't have that specific topic available, they show things that are closely related to it. If you know what you want to search for right now, you can use the following search box to see if Hypnosis Downloads has it or something like it.
If You Have Any Questions About Hypnosis Downloads, Please Ask In The Comments Below
There's a lot more to Hypnosis Downloads than what I've covered here.
For instance, Hypnosis Downloads offers courses that might interest professionals who have clients and want to help them with hypnosis, or people who just want to learn more about hypnotherapy and how to help others in their lives.
In this review, I just focused on what I've been using it for so far. But, if you have any questions on something I talked about or something I didn't, please feel free to ask in the comments below.