Last Updated on September 27, 2020 by Kari
One thing I've learned over the years is that you must retrain your subconscious mind if you want to change the course of your life. Dr. Bruce Lipton, a stem cell biologist, says that we go through life using our subconscious mind 95% of the time, which means that the information stored there is literally ruling our lives. Subliminal 360 is a software that is meant to target the subconscious mind with thousands of subliminal affirmations that can rewrite your subconscious beliefs and, therefore, rewrite your life.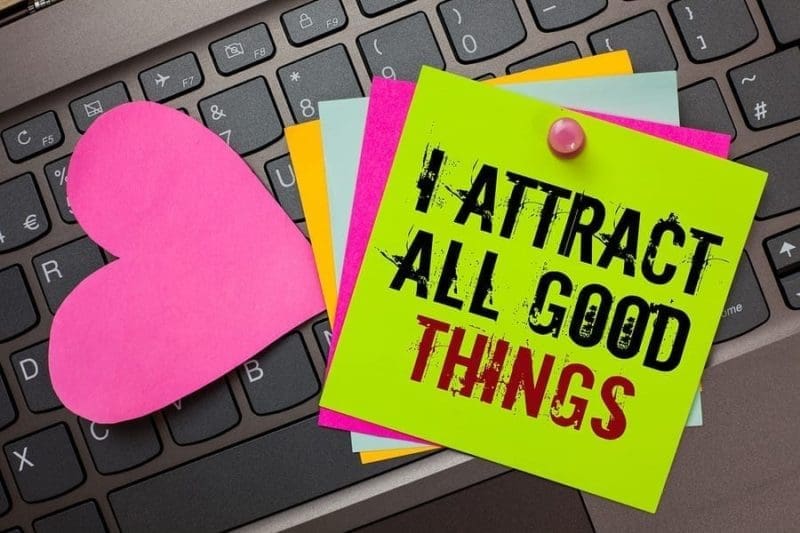 Exposure To A Statement Over And Over Again Is What Forms Beliefs
Recently I took Rapid Transformational Hypnotherapy for Abundance and was reminded of how important positive statements are in creating the life you want.
Marisa Peer says that the mind will do what you tell it to do. If you tell it over and over again one thing, it's going to believe it and help you achieve exactly what you are telling it. So, if you tell yourself that you are a failure over and over again, your mind will help you be a failure.
Because of this, Marisa encourages you to talk to your mind in a way that reflects what you want out of life.
I mentioned in that review that I was going to start listening to more Subliminal Guru sessions so that I could pack my days with positive statements and affirmations that would affect my subconscious in a way I want to affect it.
But I remembered that Inspire3 also has a product called Subliminal 360, and so I decided to check out that software before I bought a whole bunch of sessions from Subliminal Guru.
I'm glad I did.
Subliminal 360 Works In Two Ways
This Subliminal 360 review is of the full version of the software – meaning it comes with everything. There are cheaper versions of Subliminal 360 too, that include less than the full version, but please note that they offer a $50 off coupon when you go, so you can get the full version for the same price as the cheapest version. And, in my opinion, it's totally worth it.
There are two main parts to the full version of Subliminal 360.
1. Flashing Affirmations
First, with the Subliminal 360 software, you can create subliminal messages that flash on your computer screen. You can customize the appearance of these messages to look and flash in a way that you want. As you pick what you want, you can see a preview on the right of what the subliminal affirmation will look like.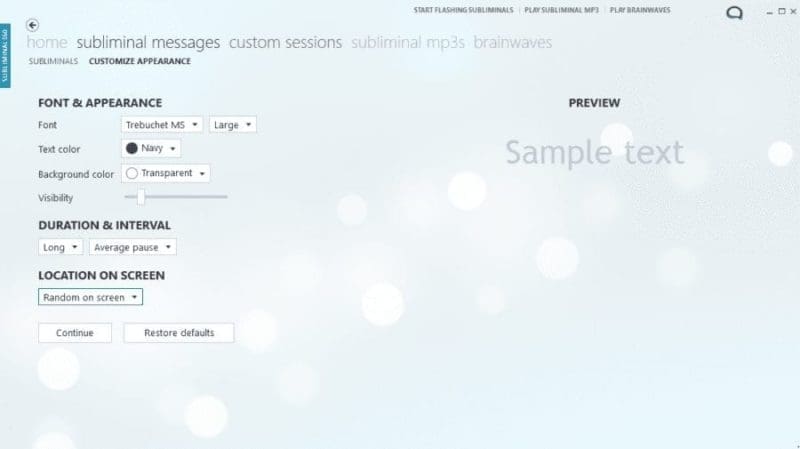 When picking the affirmations that you want to flash, there are 18 categories to choose from, and then a bunch of different sub-categories to choose from. For instance, if you pick Personal Power, then you have 32 sub-categories to choose from inside of Personal Power, such as Be More Outgoing or Love Your Body or Be More Grateful.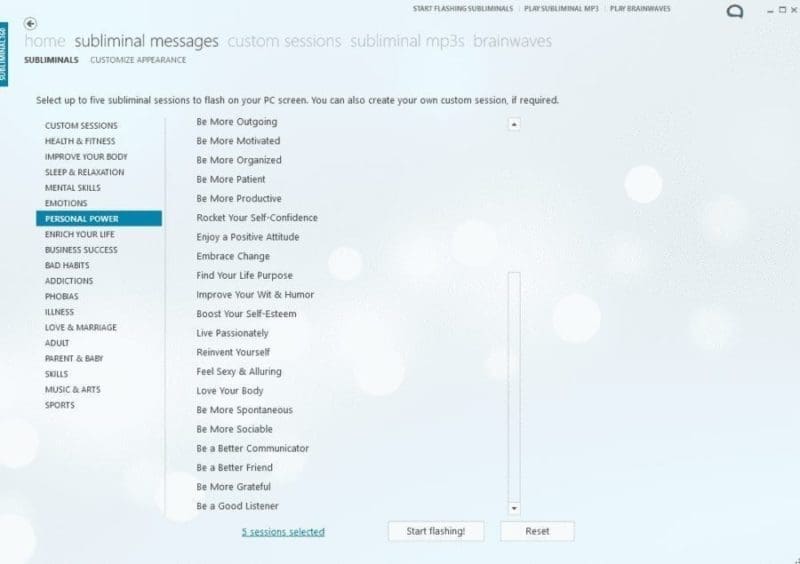 And, when you pick a subcategory that you want, you can see the affirmations that are inside of the session. For instance, when you pick Be More Grateful, you can see that there are 12 pre-set affirmations that will flash.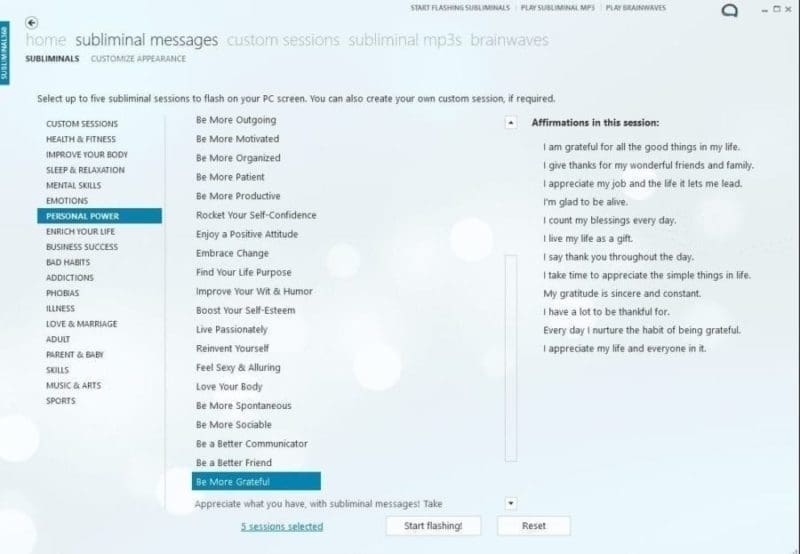 If you decide you want the affirmations from Be More Grateful to flash, then you simply click on select and the Subliminal 360 software will add those affirmations into your current selected affirmations. The only downside is that you can only choose 5 sub-categories to flash at one time.
But, there's an upside to this because one of your sessions (or all of them if you want) can be a custom session. You can create your own custom session that flashes the messages AND PICTURES that you want to see on your screen.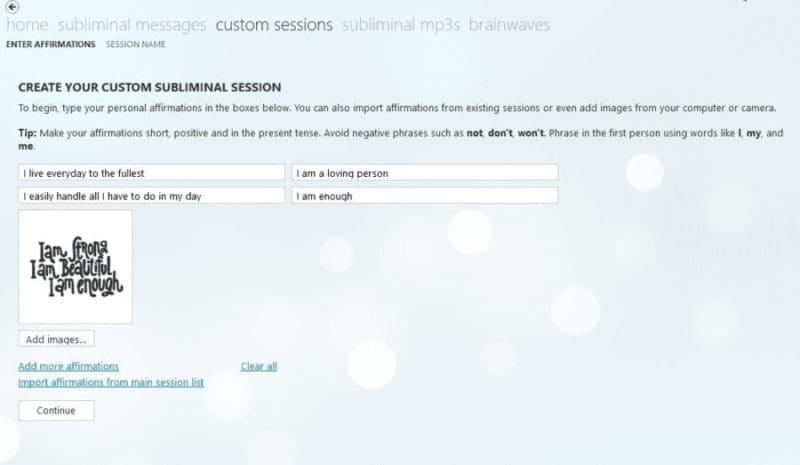 And, once you click on continue, you can save your custom session and it's there for you to access whenever you want. When it comes to personal development, you learn a lot of new affirmations and truths, so you can combine Subliminal 360 with affirmations you learn in other courses, by creating custom sessions with those affirmations and truths, and experience double the benefit.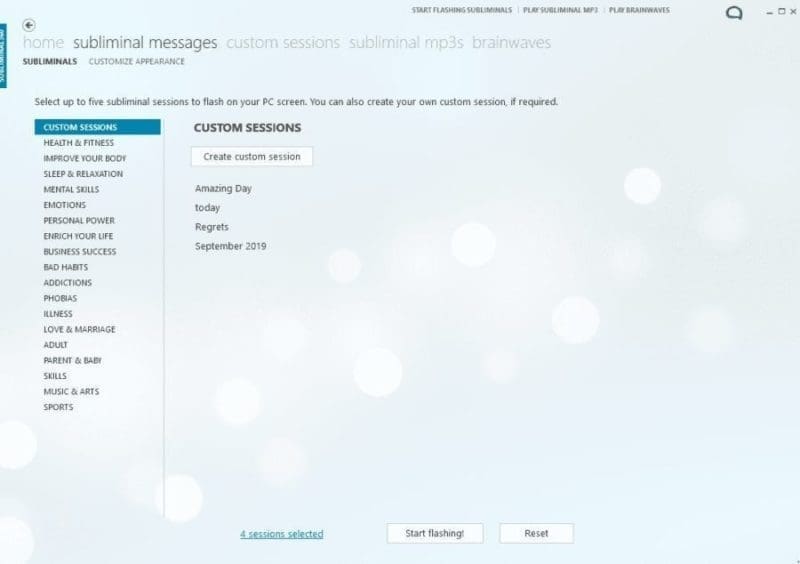 Once you choose to start flashing your affirmations, they will appear on your screen in the way you set them to appear – font, color, visibility, etc. No matter what you are doing on your computer, they will flash. They even flash when I watch Prime Video or Crave. For example, you can see an affirmation in the following screenshot very subtly in the top center – running through the blonde's forehead.
Note: you can also turn off the flashing affirmations anytime you want.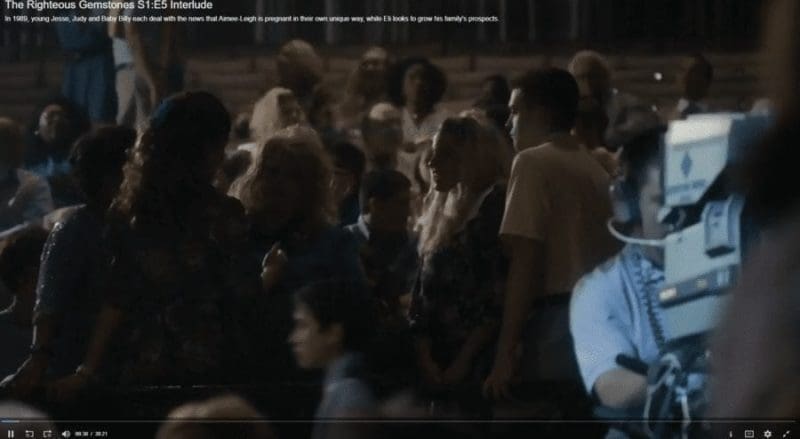 Each morning you will be greeted by Subliminal 360 software with a morning message that asks you to please take a moment to read the affirmations that are flashing on your screen and strengthen the connection between the subconscious and conscious mind. You can choose to not show this, but I recommend it because reading through the affirmations does help you think of them consciously first thing and give you an extra boost with your chosen statements.
Can you see the potential Subliminal 360 has with just your flashing affirmations? Especially if you use your computer all day like me.
But, there's more.
2. Make Your Own Subliminal MP3s
If you have bought any subliminal session from Subliminal Guru, and you liked it, then you are going to like this.
Subliminal 360 allows you to make any subliminal MP3 session that Subliminal Guru offers, or you can make your own.
To import premade sessions, you just click on 'Import Affirmations From Main Sessions List' and then choose the sessions you want, including any custom sessions you have already made.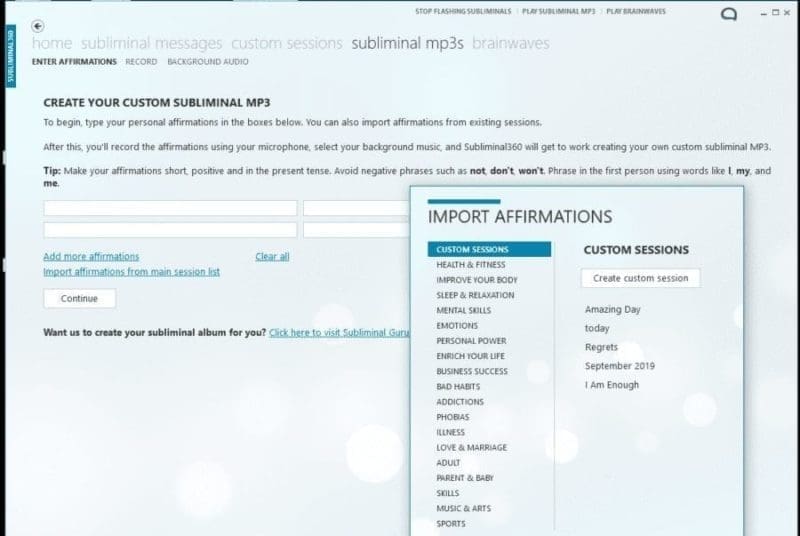 Once you have chosen the affirmations you want, you need to record them. All you have to do is click on the red button, record your voice, then click on that button again and your affirmation will be recorded into Subliminal 360. You will see a little play button beside the record button after your affirmation has been recorded.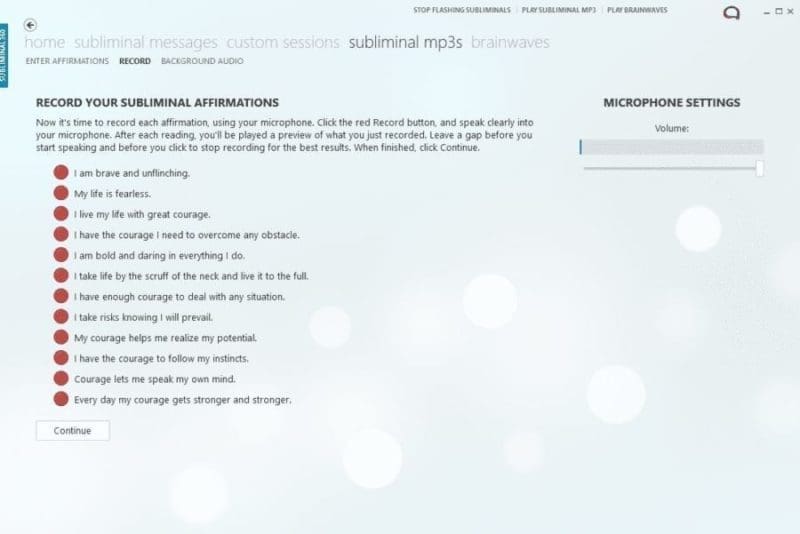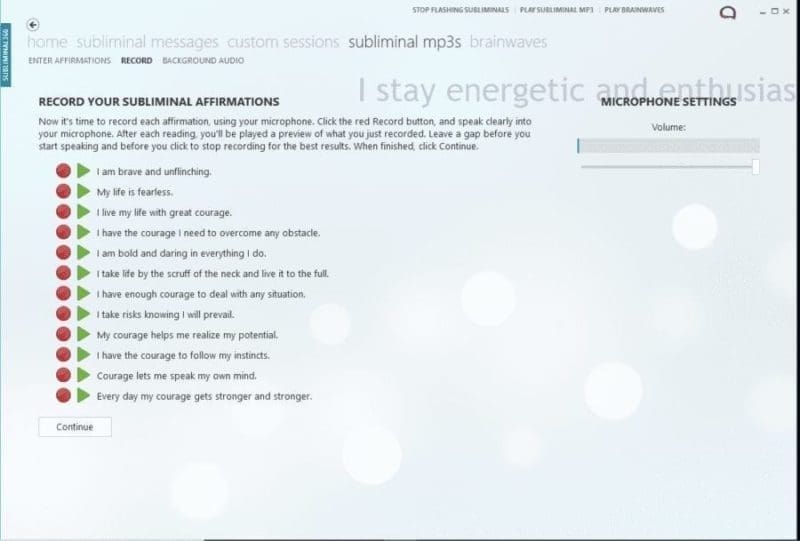 Then after you click on 'Continue' you need to decide which audio you want to use. For work, I would choose the classical audio, but for relaxation, I would choose the ocean because that's what relaxes me most in life – being by the ocean.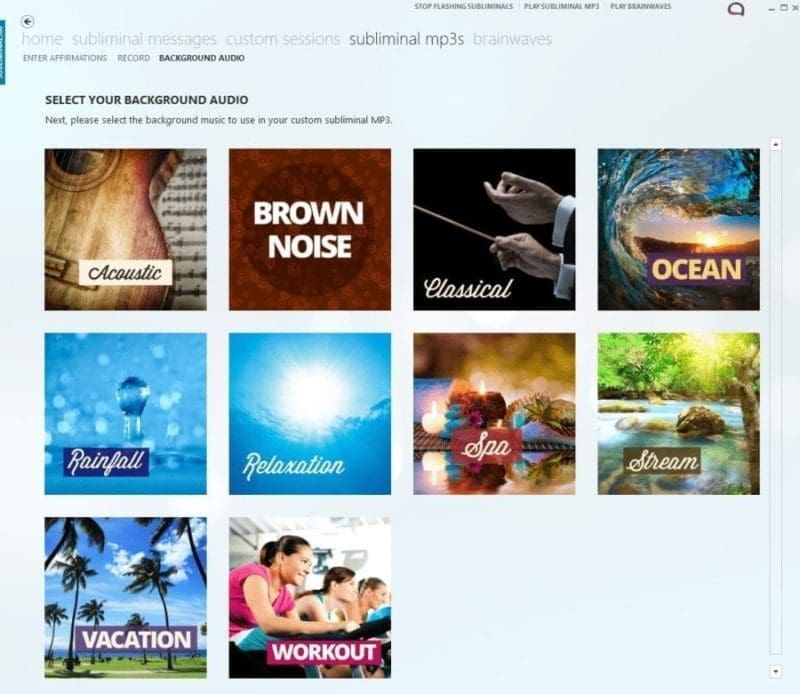 When you choose your audio, you then need to choose whether or not you want to save it as an MP3 or just listen to it. I don't see why you wouldn't save an MP3. It allows you to take your subliminal affirmations with you wherever you go. But, you do you.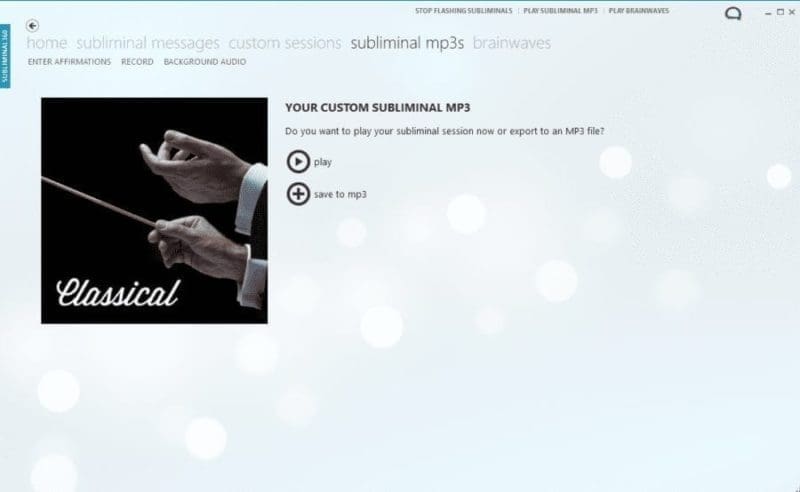 And, before Subliminal 360 saves the MP3 for you, it asks you if you want to add brainwave entrainment to the affirmation session.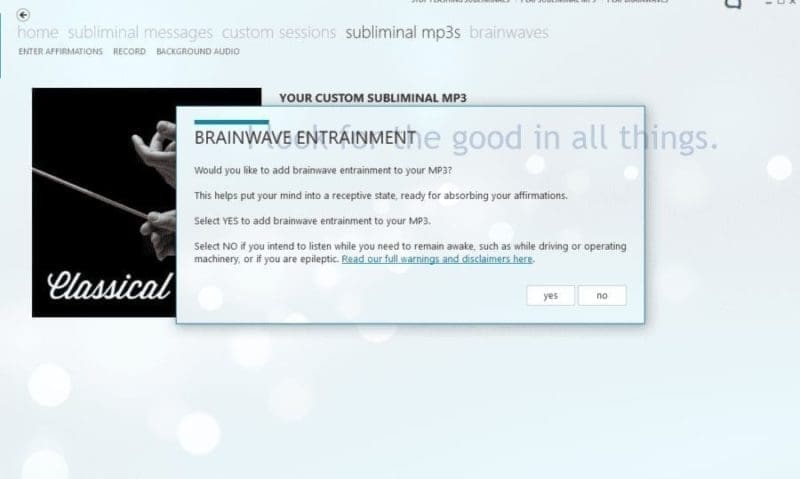 And that's it! The Subliminal 360 software creates the MP3 according to what you've chosen, and it will be saved to wherever you save it on your computer, and you can listen to it whenever you want.
The Full Version Of Subliminal 360 Also Includes Inspire3's Brain Hacker Library
If you choose to buy the 'everything version' of Subliminal 360, you get access to the Brain Hacker Library from Inspire3.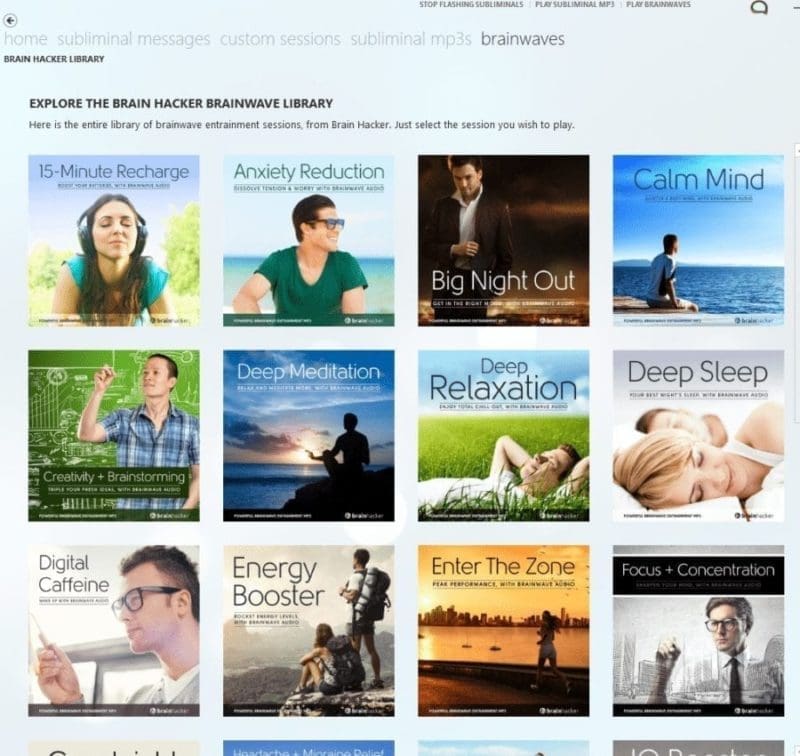 All you do is go into the brainwaves section, choose one that resonates with you, and then you can read all the information about it and play it if you want.
For instance, the following is a screenshot of 'Enter The Zone'.  As you can see, it uses brainwave entrainment, but the entrainment in this audio is not about relaxation – instead, it helps your brain stay in a higher, more alert state where you can stay focused. Plus, it uses dance music that helps you stay upbeat, awake, and on track.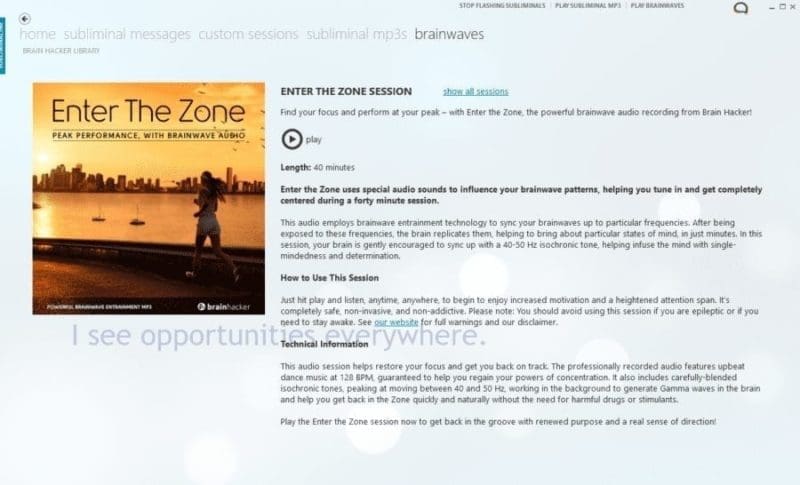 I used to listen to noisli often while I worked, but now I tend to use these Brainwave sessions instead. They have brown and pink noise sessions, which I use often when I'm in coffee shops or being easily distracted by noises around the home. They are awesome. They are of high quality. And, they work to keep the noise out and keep me focused on what I'm doing.
The only downside to these brain hacker sessions is the intro. You need to listen to it every time you try to listen to a session. It's a standard welcome message that tells you what you are going to listen to and how to use it.
Subliminal 360 Is An Awesome Software
The Subliminal 360 software does a lot when it comes to positive statements and subliminal messages. Flashing messages and images plus audio subliminal messages with different music and sounds to choose from gives you a lot of tools at your disposal.
I'm on my computer all day, so Subliminal 360 is constantly working for me. We don't even have regular TV in our home, we just watch Prime and Crave TV, so we really are always using the computer.
If you are only online for a few minutes per day, the flashing messages can still have some impact, but you are not going to be constantly exposed to them throughout the day which would have a bigger impact.
But you can still download the subliminal MP3s and listen to those anywhere you want. And, if you like Subliminal Guru sessions, then you can skip buying separate sessions and just create your own sessions with Subliminal 360.
If you are interested, you can learn more about Subliminal 360 on their website here. If you don't want to sign up or the free brain hackers, just click on the link below the big yellow button to go to their homepage and learn more about the software.
If you have any questions about Subliminal 360, please ask me in the comments below.