Every month in the Lifebook membership, the focus is shifted to one aspect of life. We get access to information regarding that subject in our Mindvalley account, and the Lifebook membership tribe focuses on discussing issues and subjects around that area.
July is focused on parenting, which is one of the Lifebook categories that doesn't resonate with me. I talked about this in my Lifebook review. Even though Jon and Missy say that the parenting category relates to everyone in some way, I just don't see that in my life.  I'm not a parent. I don't plan to be a parent. I'm not around any children in my life anymore. So, I choose to always replace parenting month in the Lifebook membership with something else. Last year I was focused on my intellectual aspect of life, and I was thinking about focusing on 'fun' this year, but I've decided to focus on personal development. There are a few good reasons for that.
A New Meditation From The Chopra Center Is Out
First, I'm engaged with a new free meditation experience at the Chopra Center. It's focusing on renewing yourself: body, mind, and spirit.
Usually, the free meditation experiences are with Oprah, but this time Deepak Chopra is doing it with J Balvin, who is a singer. Apparently, he has struggled with depression and anxiety and credits meditation as a huge tool in his personal mental health journey.
The difference between this free meditation experience and other ones (besides Oprah not being a part of it) is that you can listen to it in English or Spanish. So, they are expanding their reach beyond just an English audience, which is great.
You can learn more about J Balvin in the following video. You can also sign up for his and Deepak Chopra's free meditation experience on this page. I'm only a few days in for this meditation experience, but like all the medications from the Chopra Center, I'm really liking it. And it has come at a time in my life when I really need it.
Mastering Authentic Networking Starts This Month
On July 12th, a new quest starts on Mindvalley called Mastering Authentic Networking. It's a 21-day quest and it runs from July 12 to August 1st, so it fits into my personal development month strategy perfectly.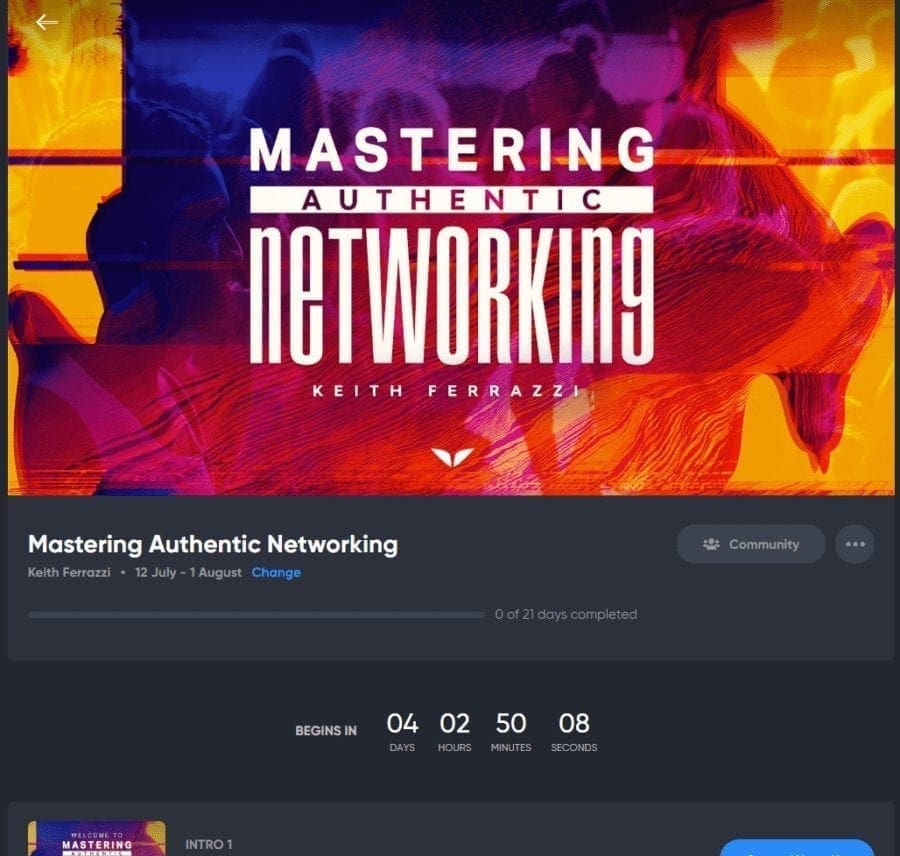 I'm excited for this one because Mindvalley doesn't have a quest like this yet and I've never taken a course on networking.
This quest is taught by Keith Ferrazzi, who is known as a global thought leader for relational and collaborative sciences.
The quest is supposed to be focused on building connections with other people. It's supposed to help you grow your networking skills and learn how to start using your new relationships to make a difference in your life and the lives of people around you.
I'll be taking the first run-through of the quest, but it's going to be a permanent quest on Mindvalley. You can take the free masterclass for it here to learn more about Keith Ferrazzi and what he teaches.
Mindvalley University Runs During This Month Too
On July 13th, Mindvalley University starts. It runs until August 2, so, again, it fits into my personal development month for Lifebook perfectly.
The whole thing is going to be online this year, and I talked about why I have access to Mindvalley University in this article.
Recently, I became aware of the Mindvalley Calendar. I'm almost sure this was just released recently and wasn't available before because I've never heard about it before and I've been learning with Mindvalley for a long time.
The Calendar lays out everything happening this month, including all the lessons that are happening for Mindvalley University.
It looks like every day there will be classes from around 9 am to 1 pm. Most of the Mindvalley classes will be done by current Mindvalley teachers.
One class that I'm really interested in is the Business Mastermind class. I think it's going to complement the Mastering Authentic Networking quest really well.
The Business Mastermind class will be daily first thing in the afternoon from the looks of it on the calendar. It's supposed to be facilitated by someone, so I'm assuming that it will be focused on a specific topic each day. It seems like it will be a place to get different points of view for your business, get ideas from others, and create strategies for going forward.
 I Think My Personal Development Month Will Be Great
I'm always working on my personal development, but I'm really focusing on it over other things this month.
I feel like all three of these things are going to contribute to my personal development in a big way.