Last Updated on May 11, 2021 by Kari
I've always liked the look of the Tyrant Battle Axe. Every time I went into my local music store, I would think about getting it and then finally I just took the leap. I tried it out and bought it instantly. I've had it for over a year now. Here are my thoughts about it.
The Specifics
I'm sure you're familiar with the Battle Axe. But, just in case, here are some details that you may want to know.
22 jumbo frets
Grover Tuners
Flying V model
Humbucker pickups
Fork headstock
Tunomatic bridge
Rosewood fingerboard
DMT design pickups (Good for metal or rock'n roll).
Mahogany-type wood
5 Of My Favorite Things About The Battle Axe
1. The Look Of It
It looks awesome. It makes you feel like you are going to battle. If you were to get up on stage, you would feel like a guitar warrior.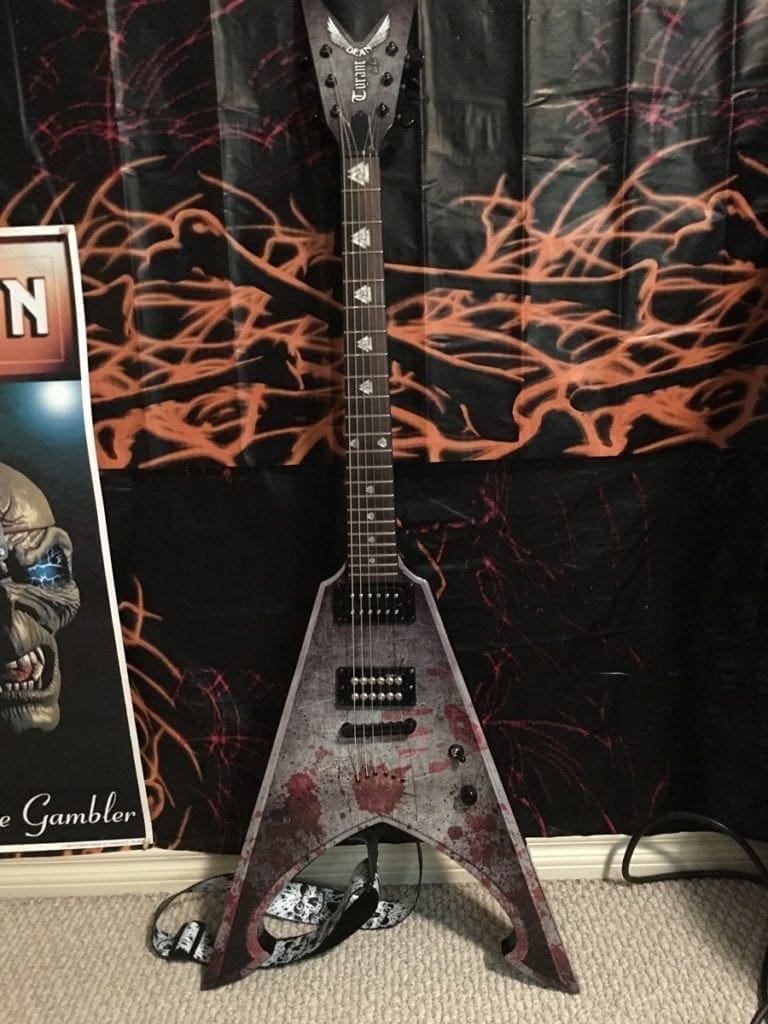 2. The Playability
It's a comfortable guitar. I find that the frets are large enough where you don't feel like your fingers are cramped.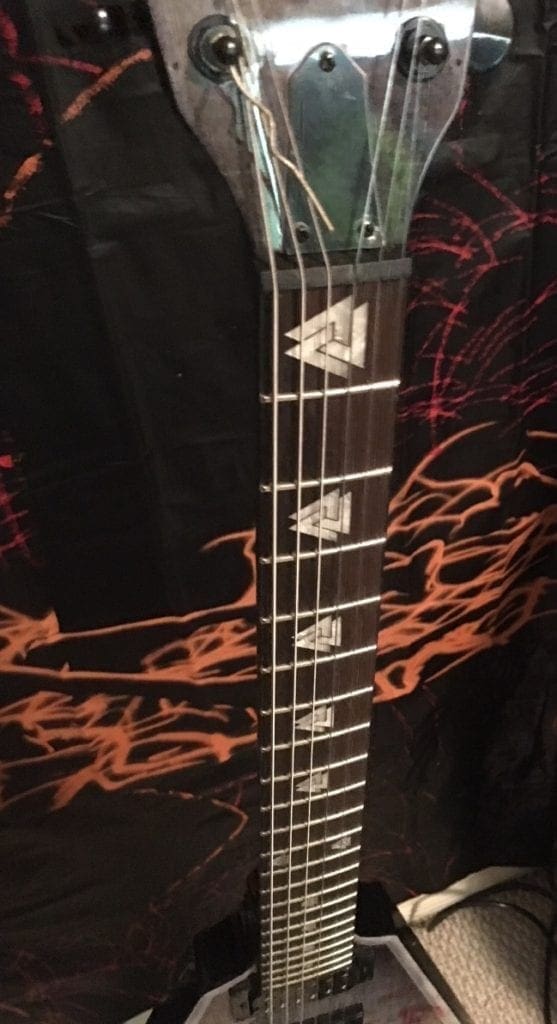 3. The Sound
It's very heavy sounding. That makes it good for any type of rock, doesn't matter if you are going for something like Black Sabbath, Ozzy, or Arch Enemy or Lamb of God, it gives you the sound you are looking for. In short, this guitar can do the Michael Amott sound and much more.

4. The Difference In Sound Between The Bridge And The Neck Pickup
The neck pickup gives you a very soulful kind of glassy blues sound and the bridge gives you an all out shred and crunch.
5. The Tone
You can do anything in the way of Michael Amott or Zakk Wylde type tones.
Compared To My Other Guitars…
Compared to my other guitars, the playability of the fret board is a lot smoother on the Michael Amott Tyrant Battle Axe. If I'm going to play anything heavy, standard, or drop D tuning, I grab my Battle Axe.
It's a solid piece of wood from body to frets, so it carries a heavier tone because the sound of the wood really comes through.
The Drawbacks Of The Battle Axe
I wish it had Grover locking tuners. If you play aggressively like me, you will notice that it will fall out of tune often. You need to check your tunage about every 15 minutes. I'm not sure if this is just my bad luck, though. I have another Michael Amott guitar that I don't need to tune more than every seven days or so.
I also wish it had 24 frets. That way you could cover the scope of two octaves.
Lastly, it would be great if it was a floating tremolo system. Then you would have access to a whammy bar and you could do bomb dives.
Is The Michael Amott Tyrant Battle Axe For You?
If you're interested in metal, this guitar gives you the look and sound that you are likely looking for.  I breathe metal, and this guitar can give me goosebumps when I play it because of the shear heaviness of the sound.
If you are thinking about recording, this guitar is a good one. The tones really cut through, so it's an excellent guitar to record your rhythm tracks with.
Lastly, if you are trying to get a reaction from people, it's covered in blood so you will definitely get a reaction from your parents, family members, friends, and everyone else.
If you have any questions about the Michael Amott Tyrant Battle Axe or Dean Guitars feel free to ask me in the comments below.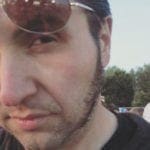 I'm a musician and artist obsessed with metal. I've been playing guitar for over three decades, and I'm not bored of it yet. You can find my guitar videos on YouTube, thoughts on Twitter, and pics on Instagram. You can also check out my new website at Guitar Pointers.