Last Updated on October 28, 2020 by Kari
I love Amazon Prime for so many reasons (including quick Christmas and birthday gifts when I've cut it too close). I've been signed up with it for years. But I didn't use Amazon Prime Video until about a year ago when we decided to cancel our regular TV service and watch Netflix instead. It didn't take long for me to start looking for other shows outside of Netflix, and I realized that in our Prime account we had access to videos. I had no idea how similar Prime Video is to Netflix. It's been one of our major choices in entertainment. I thought Amazon Prime was worth it just for the quick shipping and deals, but now it just makes sense to get Amazon Prime because of the video aspect as well.
Amazon Prime Video TV Shows
Amazon Prime Video has so many shows and movies that Netflix doesn't have. For instance, all 9 seasons of Rosanne are on Amazon Prime Video. For me, being an 80's kid, that's huge! But it's not just nostalgic shows like 3rd Rock From The Sun or A Different World (totally two shows I watched all the time when I was younger) or the current shows like Preacher and Fear of the Walking Dead – they also have Original Series just like Netflix does.
One Complaint I Have
The biggest issue I have with Amazon Prime Video TV is that it doesn't continue on from where you left off as Netflix does. That means if you are watching a season, you have to go back into the season and then pick the episode you left off at.
It does mark where you left off in each episode, so you don't have to fast forward through an episode to find where you were.
Update December 2019: This issue was fixed a bit ago. Even if you watch Prime Video on your Echo Show, you can simply say, "Watch Roseanne," for example, and it will continue from where you left off.
A Unique Aspect To Amazon Video Prime TV Shows
What my 'need to know everything self' does like is the fact that you can see who the actors are in a scene by moving your mouse to the left side of the screen during any scene. This only works for TV shows, but it's awesome when you see someone you know but can't quite place who they are. You can click on their little box and that opens up more information about them, including what they are known for. Sometimes there is a ton of information and sometimes there's just a bit, but it's a quick way to figure out who someone is or get to know more about them.
As you can see from the screenshot above, there is a menu that opens up when you start digging into an actor that allows you to see the scenes in the show and then skip to them if you like. You can also see the entire cast by clicking on 'cast', and then further drill down into who they are by clicking on their picture.
You can also see a list of characters in the show.
You can learn trivia about the show and jump to the scene that the trivia lines up with.
I also like that you can forward and rewind by 10 seconds whenever you want.
Amazon Prime Video Movies
This is pretty standard, just like Netflix. You get some info when you check out the movie, such as who stars in it and the date it was released.
One of the things I love is that you can watch the trailer for a movie before actually watching the movie. That way I can tell if something is going to interest me or not depending on my mood and what the trailer shows me.
Keep Track Of Things You Want To Watch
Just like Netflix has a 'my list' section, Amazon Prime Video has a section devoted to shows you want to watch. You can click on any movie or TV show and add it to your watchlist.
However, if you are in a TV series with more than one season, you will have to add each season to your watchlist because it only adds one season at a time. Or, you could just add the first season and then go from there as you move through season after season. After you add the movie or season, it will appear under 'Watch Next TV and Movies' at the top of your homepage.
The Amazon Prime Video App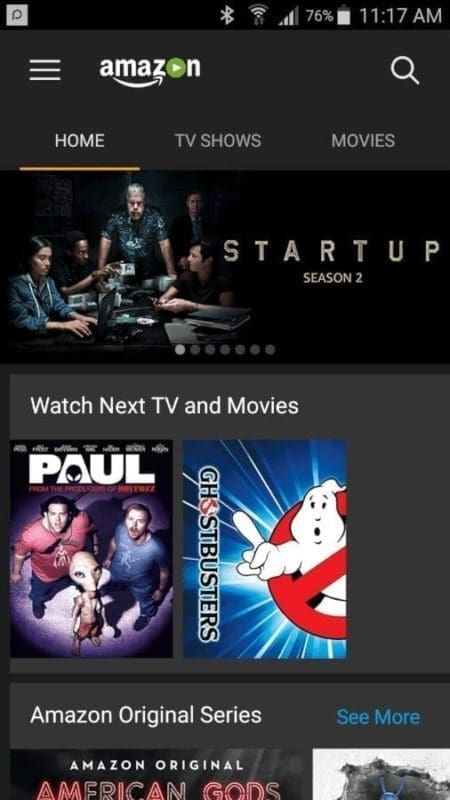 Just like Netflix has an app, you can download the Prime Video app so that you can watch TV or movies anywhere you want. It pretty much does everything the site can do, but it just does it on any device you want and anywhere you want.
You can also download shows to your device. I haven't downloaded anything because my phone's storage is almost full. Plus, I'm also always on the internet and can just live stream.
I have to add that the convenience we have is amazing! I remember the days that you couldn't even watch a show if you weren't home. And if you forgot to put a video tape in the VCR, you were screwed because it was gone… but anyway!
My Issues With Amazon Prime Video
As I said earlier, you can't just go back to the place you left off in a TV show. That's frustrating. Netflix makes it so easy to continue on from where you left off.
I also don't like that you can't see what you've watched. Netflix has a 'continue watching' feed as well as a 'watch again' feed, so you know what shows you still have to finish and what shows you've already watched. But, Amazon Prime Video doesn't have anything like that. If you have started a movie or show, it will continue from where you left off when you start again, but you have to find the movie or show first. Unless it's in your 'watchlist' section.
You also can't cast the shows from your phone to your TV. For us, this isn't a problem because we just plug the computer into the TV and watch it fine. But, for someone who only has their phone and wants to shoot it into their TV, it would suck.
Apparently, you can subscribe to channels through Amazon Prime Video for a fee, such as HBO, but you can only do that if you live in the U.S. If you are in Canada, like me, you don't have that option. That sucks.
Amazon Prime Video Is An Awesome Addition To Amazon Prime
I will always be an Amazon Prime member for many reasons, including Amazon Prime Video. It's cheaper per month than Netflix, but it gives me way more cool stuff overall. It just makes sense to me.
If you are interested in getting Prime, you can try it out with a 30-day free trial here if you live in the United States and try it out here if you live in Canada. If you live in the U.S., you also get Prime Music included in your membership. (Update: A week after I wrote this review, we got access to Prime Music in Canada! So happy right now!)
Also, if you have an EBT card, you could get a discount and pay just $5.99/month USD at this link: Prime Discounted Monthly Offering
If you have any questions about Amazon Prime Video or Amazon Prime in general, please feel free to ask in the comments.