The other day I had a bunch of cabbage and felt like potatoes, so I looked up a vegan cabbage and potato idea for dinner. I found a sheet pan recipe that included chickpeas, which are not always my favorite in a meal. I like them in hummus, but other than that I don't like the taste of them just as they are. My husband does, though, so I decided to give the recipe a try because I knew that he would at least appreciate my attempt to put chickpeas into a dinner, and it turned out that I ended up liking this sheet pan dinner even more than he did!
Start With Cabbage, Potatoes, And Chickpeas
The sheet pan dinner recipe is from Eva at The Curious Chickpea. In the recipe, she used green cabbage and red potatoes. I had white potatoes and red cabbage. It worked.
I cut the baby potatoes into fours and cut up the cabbage pretty thick, but not as thick as she did. Then I threw it on a baking sheet with the chickpeas, put the mustard vinaigrette over top, mixed it up, and threw it in the oven. Easy.
I didn't leave it in the oven long enough, I think. The chickpeas were starting to get some color on them, but I was scared I was going to burn the cabbage so I pulled the whole thing out early. Next time I would leave them in longer to see what difference that makes to the taste, but they were really good as is.
Make The Cashew Based Gravy
I only use mushroom gravy with french fries. I never put gravy on mashed potatoes or cooked potatoes of any kind besides fries. So, I was a little skeptical that I would like this vegan gravy on my potatoes, cabbage, and chickpea sheet pan dish. But, it included cashews in the recipe, and I use cashews all the time, so I figured I should at least try it because I have yet to find a sauce I don't like with cashews.
It is so good. Insanely good.
For spices, the recipe calls for tarragon and thyme. I didn't have tarragon, but I had basil, and that was recommended as a substitute for tarragon on this page, so I used it. The thyme was delicious in this vegan gravy.
Also, I used my own homemade cashew vegan butter for this vegan gravy.
End Result? An Easy Vegan Sheet Pan Dinner That Is Delicious!
This is an easy vegan sheet pan dinner to make. With the vinaigrette and the gravy, it is also extremely delicious. I really liked the taste of the chickpeas after being roasted in the mustard vinaigrette. This is one of those dinners that I would easily serve to non-vegans confident they would like it.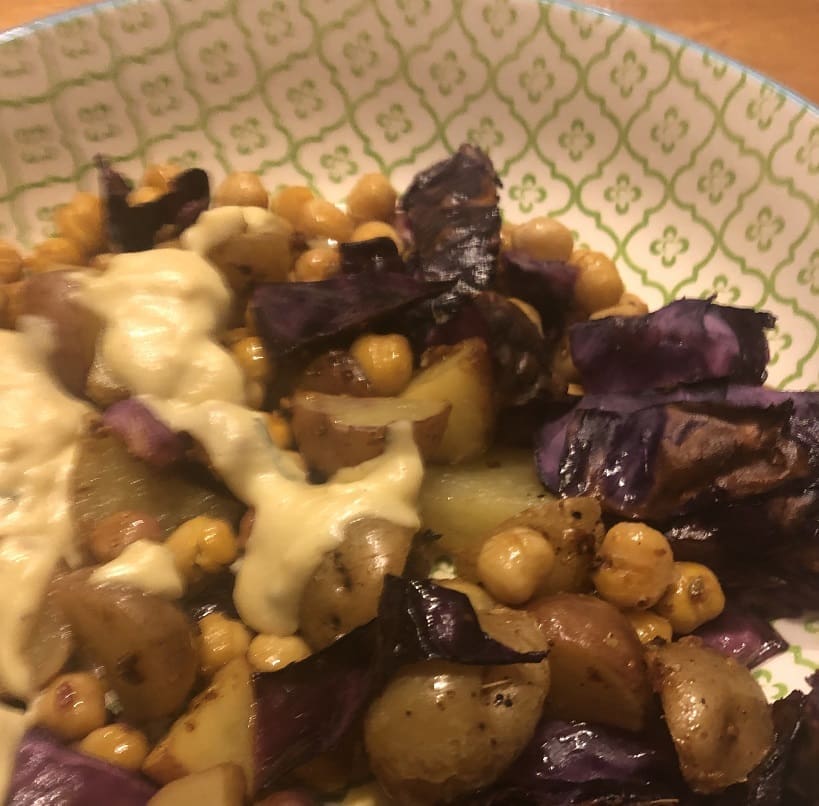 You can serve this over or with rice, but we just had it as is, and it was delicious. So satisfying. So creamy and full of flavor.
I highly recommend giving this vegan sheet pan dinner a try if you want to make something easy but delicious at the same time.