Last Updated on April 1, 2021 by Kari
A few months ago, I took Naveen Jain's quest on Mindvalley called The Power Of Boldness. While listening to him talk, I learned that he had created a company called Viome. I checked it out and noticed that they do a gut microbiome health test. This was something I felt like I needed. I've been having bowel problems since I can remember (I'm 43), and lately, with all the stress I've been putting myself through, they have been acting up in a big way. So, both my husband and I both ordered the test and sent both away on February 2nd. Naveen Jain seems like a guy whose company would have it together, so we were excited to get going on it.
Viome Is Taking A Long Time
When it comes to health and finding answers, I don't have a lot of patience. I like to get to the root of things (or at least some answers and direction) as quickly as I can. Viome is testing my patience in a big way!
We sent the Gut Intelligence Test in on February 2nd. They received it on February 11th. And now it's March 30th and it is STILL stuck in the processing stage.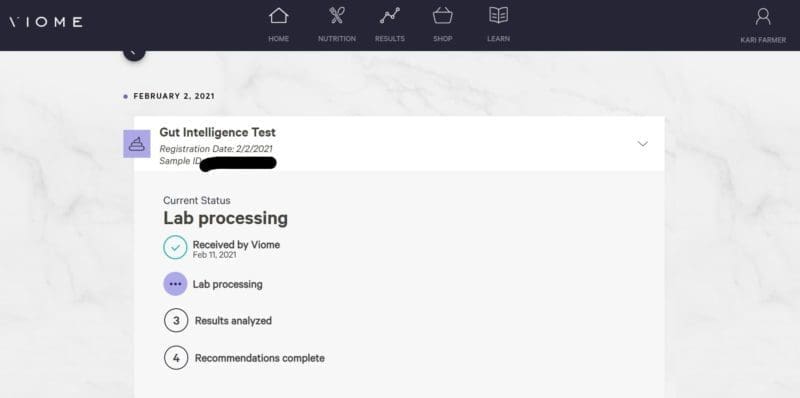 What's worse is that people who sent their test in after me are getting their results before me! I'm happy they are getting their results, but I'd like mine too!
I sent a message on March 10th to Viome through Facebook to see what was going on. Here's their response.
It looks like your stool sample is being reprocessed for the second time so our lab can get enough data needed to move into the next phase (bioinformatics). Please be reminded that results and recommendations are typically released within 4-6 weeks of Viome's lab receiving your sample.
On March 22nd, I received this email from Viome.
Hello Kari,

We wanted to check-in and give you a quick update on your sample at our lab.

Currently, your sample is still undergoing processing. We thank you very much for your patience while we finish up our work.

Recent events have unfortunately impacted our processing time including a sharp increase of samples arriving at our lab for processing, as well as a delay in the supply chain due to resources still being shifted over to COVID testing, and a winter storm in Los Alamos that kept our facilities closed for several days.

However, we are diligently continuing to process all samples, safely, accurately, and we hope to deliver your test results and recommendations very soon.

We are sorry for the delay and any inconvenience, and we're excited for you to see your results and continue on your health journey. If you have any further questions, please reach out to our Customer Experience team online.

To learn more about the world-leading scientific processing your sample is undergoing at our clinical-grade, CLIA certified laboratory, visit our Science page at viome.com.

Yours in Wellness,
Little do they know I have NOT been very patient. 😉 And, I'm surprised that a company by Naveen Jain is having so many problems. 
Now it's March 30th. It's been 6 1/2 weeks.
Microbiome Can Quickly Change
My main concern is that by the time Viome gives us the results, our gut microbiome are going to change.
I'm not an expert on gut health, so I don't one hundred percent know if it could change or not. But according to this article, the gut microbiome can quickly change within a few days of eating right. (This is the whole reason for wanting the Viome gut health test!)
Well, at the start of February, I developed some pain in my gut that I thought was solely a gut-related issue. I was in so much pain that I cut out all the food that normally gives me pain and started eating better than I ever have in my life. The major pain stuck around until last week – I still have some slight pain. And I still don't eat like I did when I sent in my sample to Viome – so is the gut microbiome they have relevant anymore?
My husband eats the same as he always has, so I guess his Viome results should be pretty accurate.
30 Days Ago My Plan Was To Try Viome Out For At Least 30 Days
I know my body can heal and change at a moment's notice, so what was relevant 6 1/2 weeks ago may not be relevant today… or whenever I get my Viome results.
Moreover, I'm starting Nerva today, which is a program that is supposed to help calm your gut in a 6-week period through hypnotherapy. I'm not sure if I should do the Viome recommendations at the same time because it will be hard to tell which one is helping.
Then again, I might not get my results for another 6 weeks from Viome. I'm just guessing they are going to send the results soon.
Some people in the Viome Facebook group have waited as long as me and then got an email telling them that their sample FAILED and that they HAVE TO DO IT AGAIN!
Could you imagine? That's ridiculous for the cost and waiting time.
In any case, whenever I get my results, and whenever I try out the Viome recommendations, I will write a review about how it goes. It may be in 2022 at this rate.
Update March 31st – Not Looking Good
I wrote them yesterday to ask them what's going on and this is the email I got.
Hi Kari,

Thank you for contacting us about your order sample and we owe you an apology for the delay you are experiencing. I have an update and unfortunately, there are two issues here,
The lab confirmed your stool sample failed sequencing and is being reprocessed this March 20, 2021.

When you sent in your sample, our lab takes that and creates 3 separate samples (aliquots). This means, your sample has 3 chances to pass through processing to deliver accurate results. Currently, your sample is being re-sequenced, which adds several weeks in additional processing time.

Our lab is experiencing a backlog in processing due to several incidents related to increased demand and COVID impacting our supply chains. The most recent incident was a severe snowstorm that impacted our lab team members' travel to the lab.

We are already on top of this, we have added on additional headcount and taken necessary measures to help with processing. We will send you further updates through email for any progress.

If everything continues to go well with the resequencing of your sample, your results and recommendations can be released within April 2 to 9, 2021. Please wait for further updates and we'll notify you once your results are available. We appreciate your patience on this matter.
Oh boy. It's not looking good.
My thoughts on this are:
Did both my husband's and my sample fail? Because he hasn't got his results back either. That would be quite a coincidence! I find that really hard to buy. Which makes me wonder if this answer is just a standard answer they give people?
Why does it take weeks to process a sample? What kind of mad science is being done there?
Why is Viome having such bad luck?
Anyways, we will see what happens.