Last Updated on May 11, 2021 by Kari
I wrote about buying the Amazon Echo last Christmas for my dad and how much he loved it. It was such a hit that this year we decided to get my parents the Echo Show 8. We also decided to get one for ourselves so they could make use out of the call function from Echo to Echo. They loved it! And, so did I. Now, I want to get rid of the plain Echos in our house and replace them with Echo Shows! They are so much better for us and what we use them for.
Echo Show is essentially a tablet for your counter with good speakers that works through voice control. You can also use your fingers to open things, search for things, scroll, pause, play, etc. It can also control various aspects of a smart home.
I've Found It Good And Bad For Productivity
I had it set up by my work desk for a few weeks before Christmas so that I could figure it out and help my parents with any questions they had.
I really enjoyed that because I set reminders on it and enjoyed seeing the visual reminder and to-do lists. You can even scroll through your list of reminders as they are numbered. And, I could easily look up something while I was working without having to interrupt my work screen.
It was also distracting because I kept putting on Prime Video or YouTube and wasting time, so I moved it into our kitchen. But, that's just a self-control issue. 😉 I might get another one and put it by my desk because I really did enjoy how it helped me be more organized and remember things I needed to do.
The Video Calls Aren't Great
The video calls so far aren't amazing. There is a little bit of lag in the picture. And, you need to turn down the volume on your Echo or else you get, ironically, a ton of echo in your voice that the other person can hear.
Maybe we haven't mastered it yet. If something changes, I will update this article and let you know how to get the best sound and picture.
Don't Just Listen To Music You Don't Know, Sing It!
I love that it shows lyrics when you ask for a song. It's like Karaoke as the words are highlighted as the song goes along.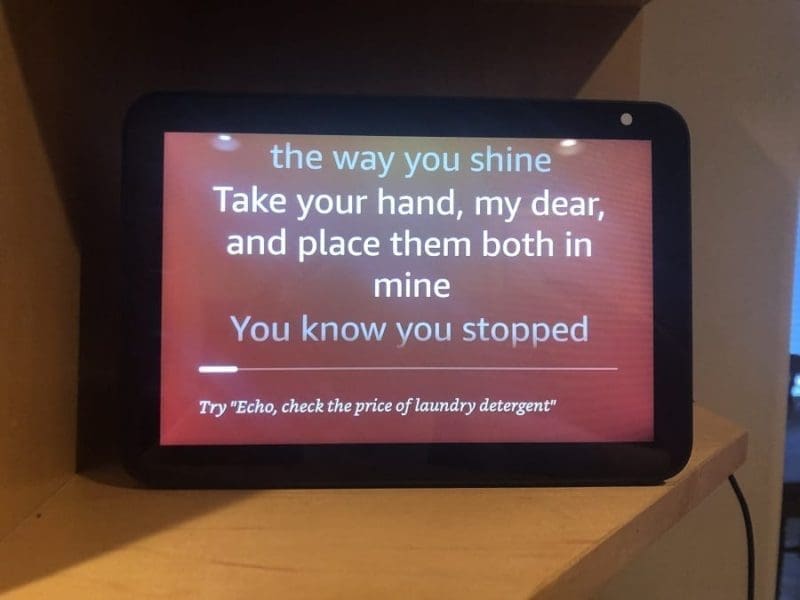 Great For Following Recipes
I put it in my kitchen because you can open a recipe and it won't close on you while you are in the middle of a step. I usually use my phone for recipes, but the Echo Show makes it so much easier, cleaner, and less frustrating.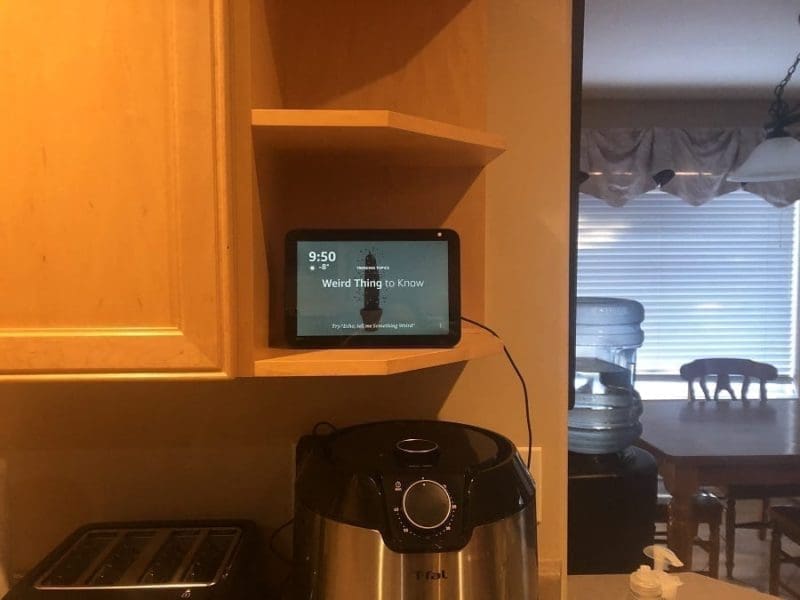 Turning Off The Suggestions On Echo
I see a lot of people complaining about not being able to turn off the suggestions (some people call them advertisements) by the Echo Show.
I've tried a few things. For instance, take a look at the picture above. You will see the suggestion on the bottom of the screen to Try "Echo, tell me something weird".  To the right of that are 3 dots. Click on those 3 dots and you will get the option to hide these types of messages.
You can also go into settings and click on 'home settings' and choose to turn off certain things there.
I still get messages despite all this. But, I'm going to keep playing around with it and see if I can figure it out.
I Can Finally Watch Prime Video Without Lugging My Computer Around
I also enjoy watching Prime Video on the Echo Show. We usually take the computer and plug it into the TV to watch Prime Video, but when I'm doing dishes or cooking, it's fun to watch it on the Echo Show. The screen is totally big enough for me. I think the next size up at 10 inches would be awesome too, though.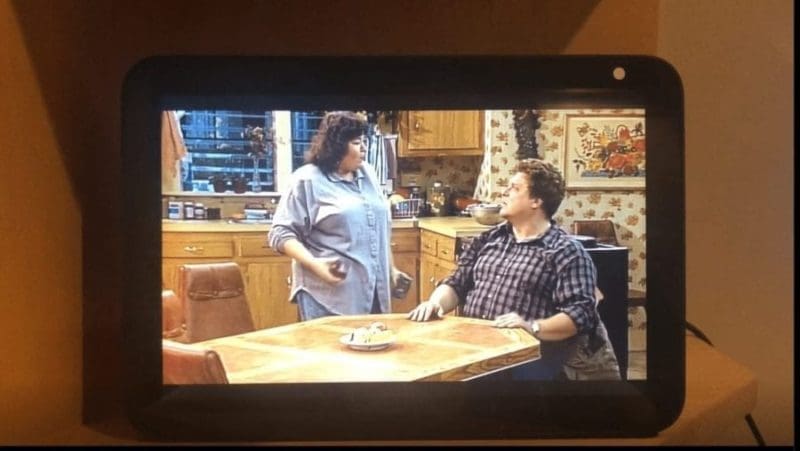 You Can Turn Off The Microphone And Close The Camera
Just like the other Echos, you can mute the microphone so it's not listening to you.
I like that you can also close the camera. I have to admit I have a little bit of paranoia that these smart devices are recording us audibly and visually. But, not enough paranoia to keep me from buying them, obviously.
I Think The Echo Show 8 Is Awesome
My dad doesn't use a phone or computer, so the Echo Show 8 is quite a new thing for him. He's amazed that he can watch Elvis videos on it, for example. He's just not someone who searches the Internet at all, so this is all new to him. I love that it is opening up his world a bit.
All in all, I love the Echo Show 8 and debated getting the 2nd generation Echo Show. It's supposed to have better sound, a better camera, and a more vibrant screen. And, it has a built-in Zigbee smart home hub. But, it's about $120 more. I can't justify it yet. Maybe later this year.
For now, the Echo Show 8 has a great sound to me and the video is nice and clear for Prime Video and YouTube. It's all I need. My parents won't want to video chat too often, so I'm not too worried about that aspect yet.
The biggest problem is that it doesn't pivot, so we are going to have to buy a stand for it. If it was just on a counter, it wouldn't be a concern, but because we have it a little higher up in the display case, it needs to be able to pivot down for video chatting and better viewing. It should just come with the stand, but that's how they get you to pay extra.
If you have any questions about the Echo Show 8, please ask me in the comments below.