Last Updated on February 8, 2023 by Kari
I have had the same wallpaper on my phone for years. But I decided that I wanted some inspiration in the form of a vision board on my phone for a while. This will be a permanent reminder of what I want my year to be like, especially when I find myself getting out of sorts and down in the dumps. It's super easy to make a vision board for your iPhone's wallpaper with Canva. Let me show you step by step.
Step 1 – Sign Into Canva
I have a paid account, but you can create a free account and make a vision board just as easily. I'll use my free account to do this tutorial, but in the end, I created my current iPhone vision board with my paid account.
Step 2 – Search For A Vision Board Template
To start, in the search bar, search for 'iPhone wallpaper vision board'.
This is what you will see.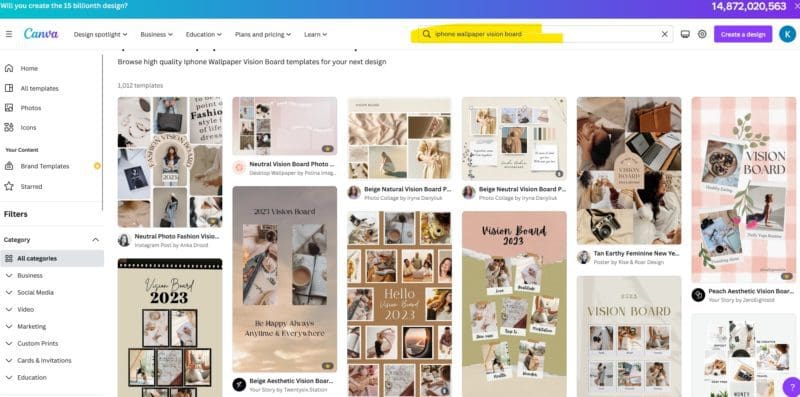 When you click on a template, there may be a 'pro' indicator at the top, which means you would need a paid account to use it. Just click out if you don't have a pro account and find another template that you like.
Here's a free template you can use.
I find the Instagram size works fine. If you have a free account, you can't resize the image in the editor. If you have a pro account, you can.
You can find the sizes of all the iPhones wallpaper here and simply resize it to whatever you want. But we're not going to do that with a free account.
Step 3 – Click On Customize This Template And Then Customize Your Vision Board
When you click on Customize This Template, you will be taken to the editor.
Once in the editor, you want to go to photos and click on it.
Then you can start searching for appropriate photos and sliding and dropping them into the placeholders that represent your visions. You can also double-click on the words and change them.
As you can see, I replaced Skin Care with the words Self Care and put in a different picture that was included with the free version of Canva.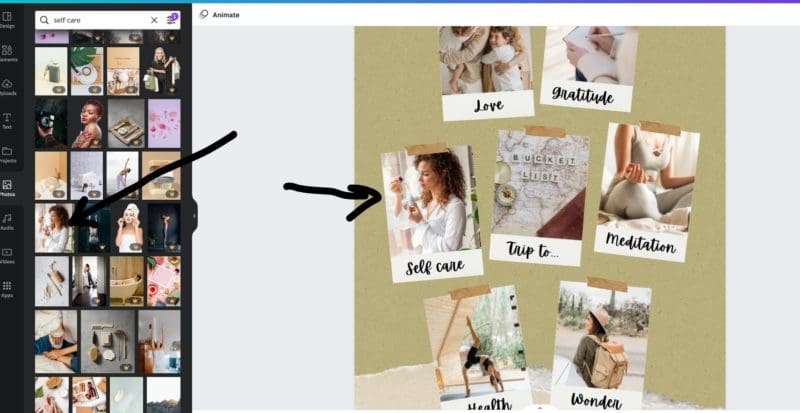 Then you simply change the rest of the pictures and words to your liking.
If you want, you can change the background image.
And you can also click on the header text 'Vision Board 2023' and change that too.
Step 4 – Download The Canva App And Download The Vision Board To Your Camera Roll
The best way to get your picture quickly is to download the Canva app and sign in on the app. Then you can download your image directly to your camera roll.
Here's what mine looks like. Keep in mind this screenshot is from my paid account so there might be images that you can't use in a free account. The little arrow pointing down at the top right is the download button.
And then you simply go into your iPhone settings -> Wallpaper -> +add new wallpaper -> photos -> all – and then click on the vision board you've downloaded. Then click on 'add' in the top right and set it as a 'wallpaper pair'.
Your home screen will now have a cool vision board that you can look at any time you want.
My Vision Board Includes The Life I Want To Live This Year
Mine includes things that are important to me right now, including love, gratitude, fun and play, curiosity, being healthy, being debt free, and getting back to earning money doing what I love. In fact, getting back to making money online was the reason I thought of creating a vision board for my iPhone.
Unfortunately, my writing wasn't earning me enough money after a rough few years so I needed to supplement with an offline job that has taken up all my time. I'm getting further and further away from working online as I work offline full-time, and last night I realized that I don't want to do that!
I don't want to settle into a job just because it's easier than doing what I really want to do, which is writing.
I started to believe that I was never going to earn money online again and, as we all know, what we believe we get. So, including 'lots of money' with a picture of a computer is an important part of my vision board that I can look at when I'm at my offline job and feel like I'm stuck and not going to get back to writing full-time.
I also changed my header to 'This Is 2023' to build the belief that this is what my year looks like.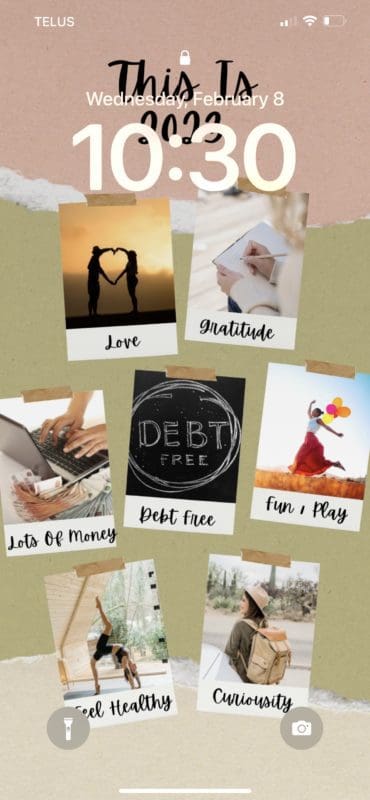 I'll probably change this up every month or so. But, I love the way it looks on my iPhone's lock screen. It is so inspiring and brings me a sense of hope and motivation that I need to get back on track.
Have I mentioned how much I love Canva? I use Canva every single day in one way or another.
Any questions, please ask in the comments below.
Check out what you get with each plan on Canva here.